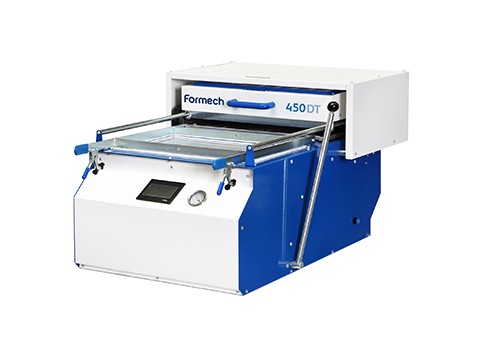 Formech 450DT Vacuum Former
About: Heats a sheet of plastic to a malleable temperature and stretches it to the shape of the given mold using a vacuum.
Location: Machine Shop
Access: Vacuum Former training required. Visit the Machine Shop to request training.
Mold Material: plastic (such as 3D printed), foam, wood, or metal. Mold must have draft angles.
Forming Area: 430 x 280mm / 17 x 11″
Sheet Size: 450 x 300mm / 18 x 12″
Max Material Thickness: 6mm / 0.25″
Material Type: HIPS, ABS, PETG, Styrene, Polyethylene (foam)
Setup
Do not place anything on the top of the heater and/or its housing.
Turn on machine with switch on lower left side.
Use large level to raise stage.
Place mold on stage.
Lower stage.
Preheat by pressing the wave icon followed by the play icon.
Wait until warm. Heater should feel warm when place hand nearby. DO NOT TOUCH THE HEATER.
Place plastic sheet on gasket frame and clamp.
Safe Operation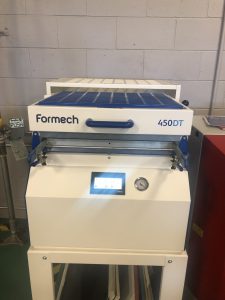 Clock will begin. Wait until the plastic is evenly droopy (about 2 minutes).
Push head back. Move stage up.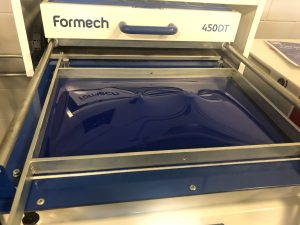 Select the middle option to apply a vacuum downward.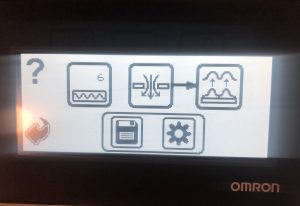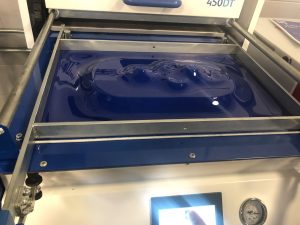 Select the rightmost option to push air upward into the mold.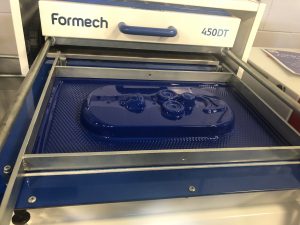 Wait for both the finished part and the mold to cool before handling.
Cleanup
Turn off the heater.
Turn machine off with switch.
Remove part and mold from the bed.
Separate plastic part and mold.