Room 114
The Machine Shop provides a collaborative space for fabrication.
This is the main hub of Bray Lab and where student & staff workers are located. Please visit if you have a question or need help.
Access
Spring 2023 hours:
Monday 1pm-8pm
Tuesday-Friday 10am – 5pm
Please make an appointment to use the shop.
Must wear proper safety attire (see below)
Check out the Machine Shop's Blog Posts to view projects from this space.
---
Shop Safety
Please view our Shop Safety Rules page for more information about our guidelines and policies.
Required Safety Attire
Safety glasses and hair ties are available at the Machine Shop entrance.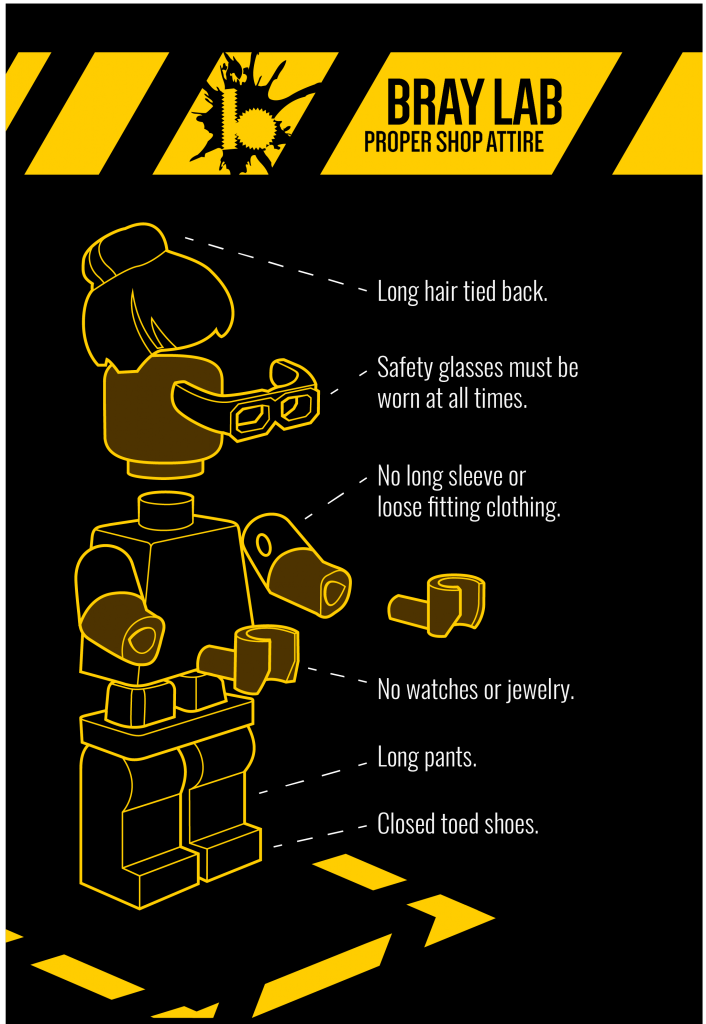 ---
Description
Green Zone
This zone contains a 3D printer, laser cutter, vacuum forming machine, waterjet machine and hand tools.
Formech 450DT Vacuum Former
Trotec Speedy 400 Laser Cutter
ProtoMAX Abrasive Waterjet Cutting Table
Hand Tools
Training for the laser cutter, 3D printer, vacuum former and Waterjet is required. To learn how to schedule a training for any of these machines read the appointments information page.
Yellow Zone
This zone contains the power tools:
Drill Press
Horizontal Band Saw
Jump Shear
Tapping Station
Vertical Band Saw
This zone requires the Power Tools training to gain access. Prerequisites: Green Zone training.
Red Zone
This zone contains the precision machines:
Bridgeport Mill
Lathe
CNC Lathe
Haas Mini Mill
The Milling and Turning training is required to operate the Bridgeport Mill or Lathe. Prerequisites: Power Tools training.
Assisted Fabrication is available for making parts with the Haas Mini Mill.
The CNC Lathe and VF2 Mill are under repair.