Room 114
The Machine Shop provides a collaborative space for fabrication.
Access
Hours: Monday to Friday 10am – 6pm
Drop-in to check out the space and discuss a project.
OR
Take the Safety Quiz, and then sign up for a training to access a wide range of tools and equipment.
Check out the Machine Shop's Blog Posts to view projects from this space.
---
Proper Attire
Please view our Shop Safety Rules page for more information about our guidelines and policies.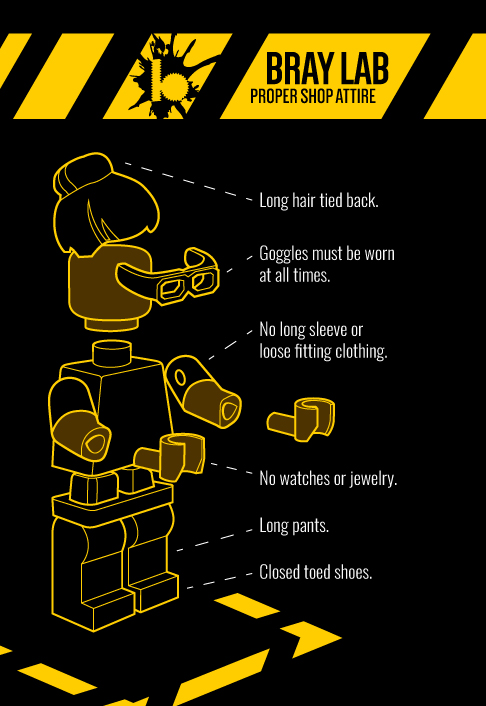 ---
Description
Green Zone
This zone contains the hand tools, laser cutter, and advanced 3D printers:
Dimension 3D Printer
Fortus 3D Printer
Hand Tools
Laser Cutter
Markforged 3D Printer
Training for the hand tools, laser cutter and Dimension 3D printer is required. The Fortus and Markforged 3D printer can be used through our Assisted Fabrication service. Select a machine below to learn more.
Yellow Zone
This zone contains the power tools:
Drill Press
Horizontal Band Saw
Jump Shear
Tapping Station
Vertical Band Saw
This zone requires the Power Tools training to gain access. Prerequisites: Green Zone training, sophomore standing and above.
Red Zone
This zone contains the precision machines:
Bridgeport Mill
Lathe
CNC Lathe
Haas Mini Mill
Haas VF2 Mill
The Milling and Turning training is required to operate the Bridgeport Mill or Lathe. Prerequisites: Power Tools training.
Fabrication service for the CNC Lathe, Haas Mini Mill and VF2 Mill is in progress and not yet available.