Bray Lab supplies wire racks throughout the building for project storage. Projects must be labeled with a name and project deadline date. All projects must be removed by the last day of classes.
Number of Racks: 2
Size of Racks: 4 ft (Width) x 18 in (Depth) x 6 ft (Height)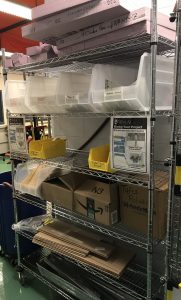 Bins for organizing projects can be found either on the wire racks or in the Supply Closet (room 201).
Number of Bins: 24
Size of Bins: 11 in (width) x 18 in (depth) x 10 in (Height)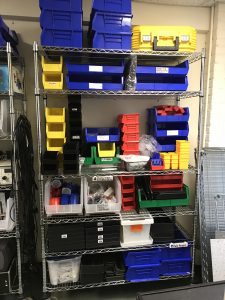 The Machine Shop and Design Lab contain zip lock bags for storing small parts.
Lockers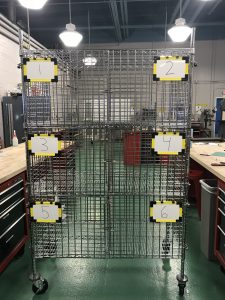 Lockers are located in the back of the Project Build Space.
Number of lockers: 6
Size of each locker: 24 in (width) x 24 in (depth) x 18 in (height).
Access: lockers may be reserved for a semester. The form is below (you must login to view). Reservations can also be renewed by filling out the below form.
Please login to view form.