Room 110
Entrance through room 111 –  Mechatronics Lab
Hours
Monday to Friday: 6am – 8pm
A lab for instruction, data collection and analysis.
Equipment
Seven computers with data acquisition and design software
Instron Dynatup Drop Tower – page under construction
Featured Project
The ES 8: Fluid Mechanics course laser cut objects then took measurements of flow behavior around the different shapes. Check out a clip of the setup in action: Example of Fluid Flow Behavior.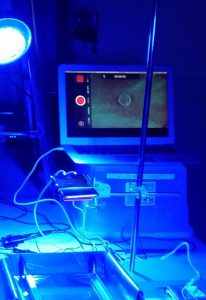 Reservations
This space can be reserved for a course or club event. Please contact staff to schedule.