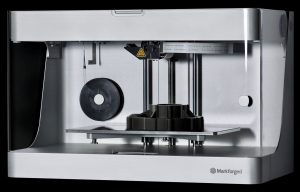 Markforged Mark Two 3D Printer
Location: 3D Printing Lab
Access: Part Request or Free Hours (Mon, Wed, Fri 10-5) 3D Printer training required for Free Hours.
File types: .stl
Materials: Nylon and fiberglass/carbon fiber, Kevlar, HSHT Fiberglass
*Please note Bray has the Mark Two Standard Edition. Other Mark Two's are capable of printing different materials.
Build size: 320 mm x 132 mm x 154 mm (12.6 in x 5.2 in x 6 in.)
Layer thickness: 0.1 mm (0.004 in.)
XY Accuracy: unknown
Pro: Wider material selection.

Con: Currently out of order… haha
Setup
Run purge prints to ensure nylon prints correctly.

On the screen of the 3D printer, select menu (on the upper right corner)-> utilities-> test prints-> wet plastic purge print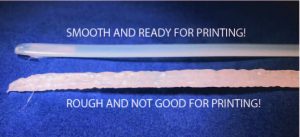 Once the purge line comes out smoothly, begin setup for print.
Spread Elmer's glue on the part of bed where you will print.
In the Eiger software, send your print directly to the 3D printer or add your print to the queue.
Watch the machine for at least the first 30 minutes of your print to ensure that the printed material adheres to the bed and the object is printing correctly.