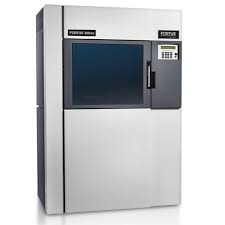 Fortus 360mc
Location: 3D Printing Lab
Access: Part Request or Free Hours (Mon, Wed, Fri 10-5) 3D Printer training required for Free Hours.
File types: .stl
Materials: ABS and soluble support material (Bray Lab has a Dissolving Bath for removing the support material).
Build size: 355 x 254 x 254 mm (14 in x 10 in x 10 in)
Layer thickness: 0.254 mm (0.01 in.)
XY Accuracy: .005 inch per inch of build OR .0015 (whichever is larger)
Infill Percentages: Sparse = 20%, Sparse-Double = 40%, Solid = 95%
Stratasys material canister and cartridge shelf life and handling
---
Setup
Slicing STL – Step 1 of 3
Open Insight Software
Select File -> Open to import STL File.
Double check part's outside dimensions are correct (bottom left corner)
Select a Modeler Setup

Part Surface Style:

[recommended] Sparse – low density (medium strength, 25% – 30 % fill, quick print)
Sparse (Double Dense) – high density (high strength, 75% fill, medium print time)
Solid (highest strength, 100% fill, slow print)

Visible Surface Style: Normal
Support Style: SMART

Select STL –> Automatic Orientation to orient part with least amount of support material (this will create the fastest print time)
Select the  green Flag button under Modeler Setup once again. This will generate a CMB File in your folder.
Select the Build icon  
Control Software – Step 2 of 3
If Control Software does not automatically open after selecting the Build icon manually open the Control Center Software and import your CMB File using File -> Insert CMB.
Place your part on the bed in the correct position.
Select Build Job.
Hardware Setup – Step 3 of 3
Make certain that that the plastic sheet is aligned with the tabs on the upper right corner and the top edge.
The blue square below represents the build space available on the Control Center Software. This represents the position where the part will be built.