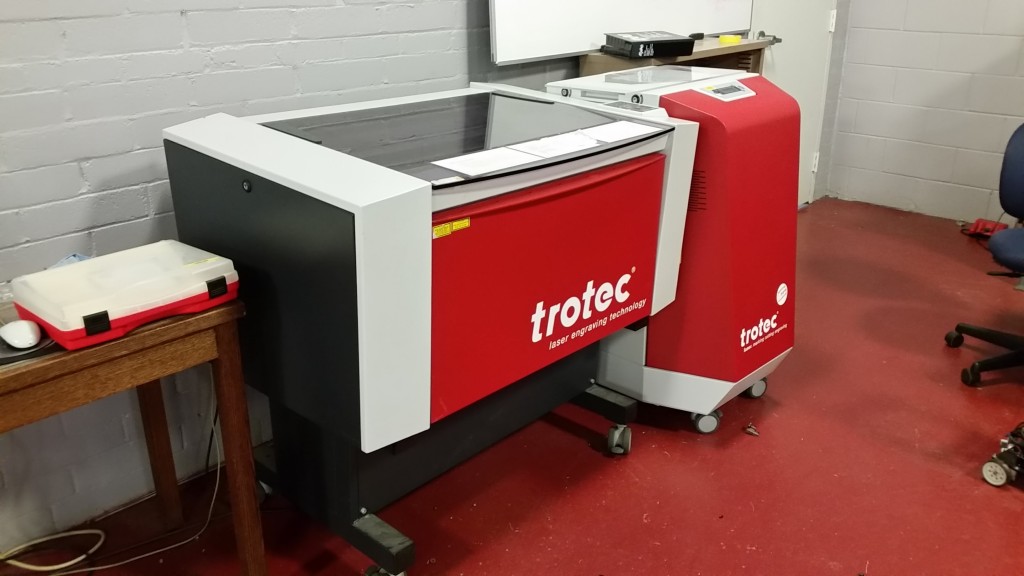 Trotec Speedy II 40 Watt Laser
&
Trotec Speedy 400 120 Watt Laser
About the Tool: Subtractive manufacturing. Cuts and etches material selected to match the path given.
Location: The Shop
Access: Laser Cutter and Hand Tools ("green zone")training required.
File types: .dxf, .dwg, .eps, .ai (adobe illustrator), .pdf
Build size: 39in x 24in
Layer thickness: 0.254 mm (0.01 in.)
XY Accuracy: .005 inch per inch of build OR .0015 (whichever is larger)
Materials:

Category
Allowable Materials
Restricted Materials
Wood
Solid wood
Plywood
MDF
Tempered hardboard
Hardwood [engrave only]
Pressure-treated
Stained
Painted wood

Paper
Chipboard
Museum board
Mat board
Butter board
Corrugated cardboard [fire hazard]
Coated paper
Plastics
Acrylic (up to 1/4 inch)
Kapton tape (Polyimide)
Mylar (Polyester)
ABS [releases cyanide gas]
Carbon Fiber
Delrin [releases formaldehyde]
Fiberglass
HDPE [melts, hard to cut]
Nylon
PETG [melts]
PVC [releases chlorine gas]
Polycarbonate / Lexan [fire hazard]
Polyethylene (PE) [melts]
Polypropylene (PP) [melts]
Vinyl [releases chlorine gas]
Styrene
Teflon
Foam
None
Fire hazard
Glass + Metal
Engrave only
Leather
None
Leather [Offensive Smell]
Rubber
None
Rubbers [may release chlorine gas]
Textiles
Aramid
Cotton
Fleece
Felt
Lace
Polyester
Silk
Synthetic & technical textiles
File Types
The software accepts any 2D drawing. For cutting, the drawing must have vector lines with a stroke of .001 and pure red.
Please visit the Design Programs webpage for software recommendations.
---
Physical Setup
Turn on Trotec Speedy II and filtration system
Use the focus tool and buttons on the machine to focus the laser.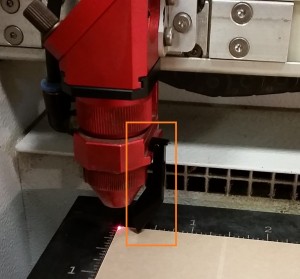 Digital Setup
File -> New from Template… -> Bray Laser

Select "File -> Place…" then select your file. This will insert your drawing into the Bray Laser template.
To cut

Lines must have a .001 inch stroke and be RGB Red:

Select File -> Print

Select Printer Preset: "Bray Laser"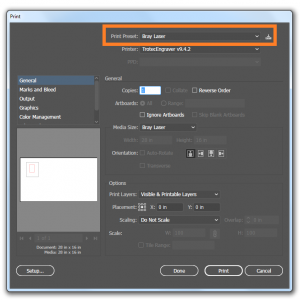 Job Control Program will open
Drag your file onto the bed and position where you want it to be cut
Go to view -> WYSIWYG to view drawing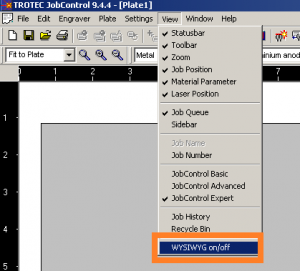 Select material and enter thickness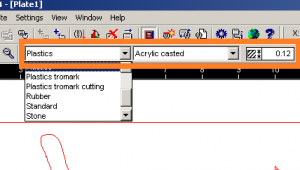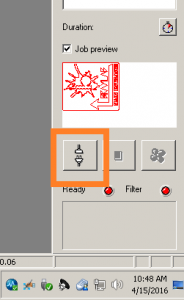 Safe Operation
Machine must be monitored while in use.
Wait until the light on the fan button turns from yellow to green to indicated it is safe to open the top because air filtration is completed.
Cleanup
Remove your material and all debris.
Throw excess material in the trash.