The Data Labs and specialists in TTS Research Technology offer an array of specialty services and advanced consultations for the Tufts community.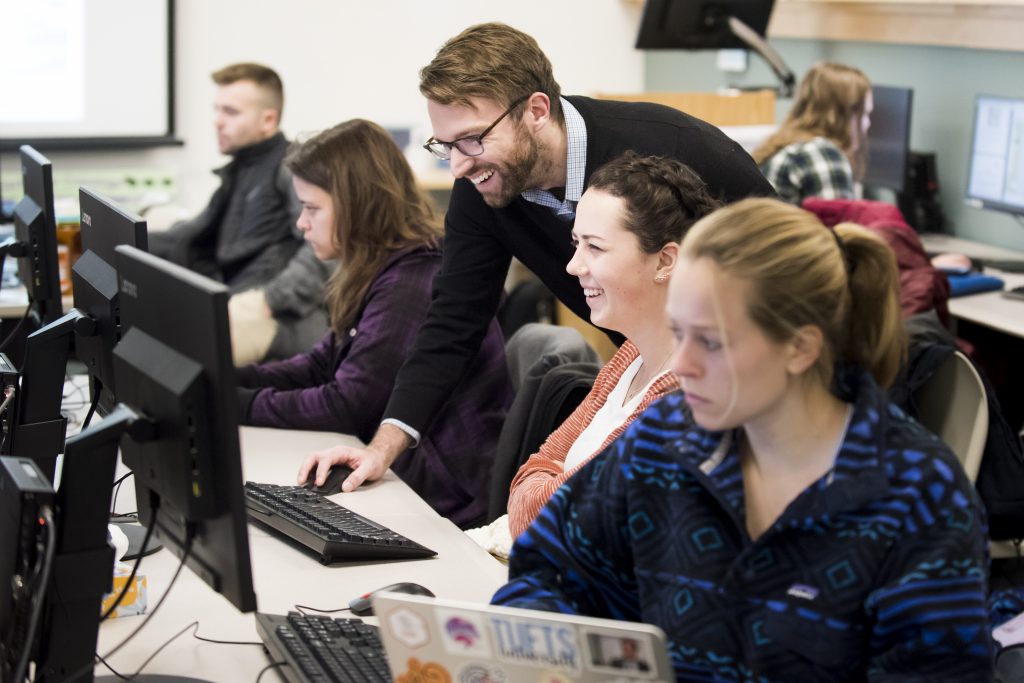 ---
Advanced Consultations
Tufts students, faculty, staff, and researchers can schedule advanced consultations provided by specialists in TTS Research Technology related to ongoing projects, publications, grants, dissertations, theses, capstones, and other research or class-related work.
Our team of specialists provides advanced consultations for the following:
Application Development
Bioinformatics Tools and Applications
Data Science Tools and Applications
Data Acquisition
Data Conversion/Development
Database Design
Data Engineering/Cleaning
Data Visualization
Digital Humanities
ESRI Applications
Fieldwork and GPS Data Collection
Geographic Information Systems (GIS)
Geoprocessing and Spatial Analyses
Google Earth Development
High-Performance Computing (HPC)
High-Throughput Computing (HTC)
Lab Archives
Map and Digital Design
Machine Learning
Remote Sensing
Research Computing
Research Data Management
Statistical Analyses
Storage Solutions
Text Analysis & NLP
Workflow Automation
---
Schedule an Advanced Consultation:
Please contact DataLab-Support@elist.tufts.edu
to schedule an appointment with:
Carolyn Talmadge, Data Lab Services Manager
(GIS Expertise)
Kyle Monahan, Manager of Data Science Services
Uku-Kaspar Uustalu, Senior Data Scientist
Yi Zhao, Data Science Specialist
Chris Barnett, Principal Software Engineer
Peter Nadel, Digital Humanities NLP Specialist
Please contact tts-research@tufts.edu
to schedule an appointment with:
Shawn Doughty, Assoc. Dir. of Research Computing
Delilah Maloney, Senior HPC Specialist
Tom Phimmasen, Senior RT Consultant
Christina Divoll, Instrumentation & HPC Specialist
Andrew Evans, HPC Engineer
---
Guest Lectures, Workshops, & Tutorials
The Data Lab and Research Technology staff have extensive experience providing in-class guest lectures, specialty workshops and tutorials, asynchronous learning materials, curriculum planning, assignment creation, and more for Tufts faculty, schools, and departments. Our staff is trained and skilled in classroom instruction and pedagogy, and several hold lecturer positions throughout the various Tufts schools. We are available to help faculty and researchers teach various skills, expertise, and software related to GIS, digital humanities, and data science applications.
If you would like to know more or would like to schedule a meeting to discuss our participation in your classroom or research team, please reach out to DataLab-Support@elist.tufts.edu.
---
Map & Visualization Design for Publications
A popular service offered by the Data Lab is support with map design or data visualizations for various publications or platforms. Oftentimes, Tufts' faculty would like specialized maps or data visualizations for publications such as journal articles, research projects, grant reports, presentations, etc. but do not have the expertise to create the product themselves. Our team is available to help Tufts researchers create these map designs or visualizations. Our services are usually in kind for Tufts faculty but ultimately depend on the project's scope.
Contact DataLab-Support@elist.tufts.edu to inquire more about map design and visualization opportunities for your research!
---
Additional Services
Software Licensing and Maintenance
Research Software Development
Grant Writing and Support
Research Project Assistance
---