The Medford Data Lab and Boston Data Lab are teaching and research computing spaces designed to foster collaboration and innovation among students, faculty, and staff across all Tufts' schools and departments. The Data Labs provide interdisciplinary methodological and technological support for a wide range of geospatial and data science applications.
The Data Lab offers support for:
Geographic Information Systems (GIS)
Statistical Analysis
Data Analysis and Visualization
Data Acquisition & Engineering
Data Literacy & Data Management
Data Science & Machine Learning
Remote Sensing
GPS Field Data Collection
Web Mapping Applications
Cartography & Design
Digital Humanities & Text Analysis
Application Development
High-Performance Computing
Data Sharing & Preservation
Research Data Management & Storage Solutions
---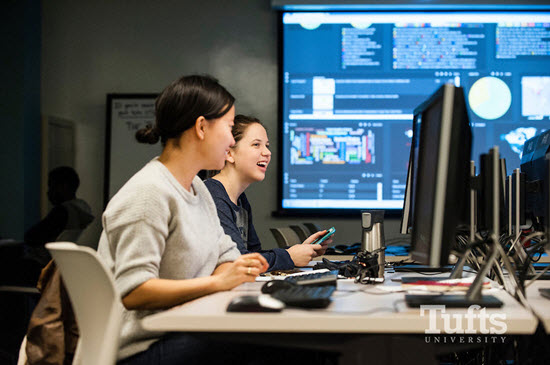 Data Lab Resources
The Data Labs are staffed with Student Data Lab Assistants who are available for immediate walk-in assistance. Additionally, our team provides advanced consultations by appointment with our senior specialists.
Other specialty services offered by the Data Lab include the Data Lab workshop series, in-class instruction and training, map design for publication, grant and research project support, and more…
Additionally, check out the many resources offered by our team such as various data sources, online tutorials, and additional learning materials.
---
The Data Lab is managed by Tufts Technology Services (TTS), in collaboration with Tisch Library, Hirsh Health Sciences Library, and Ginn Library.
---