More than 1,800 Chicago Families Inspired by Project SYNCERE's Playful STEM Labs
Mobile Playful Learning STEM Program aims to reach hundreds more students during the 2022-2023 school year
Project SYNCERE is on a roll. The non-profit's "STEM-in-Motion Mobile TinkerLabs" packed with high-tech and low-tech learning materials traveled to more than 60 Chicago neighborhoods this summer. Their audacious and ambitious mission was to bring play-based, hands-on learning activities to hundreds of children and their families within communities traditionally under-represented in science, technology, engineering, and math (STEM) fields. In just 7 weeks, more than 1,800 people across greater Chicago visited the TinkerLabs at 60 libraries and 5 public events.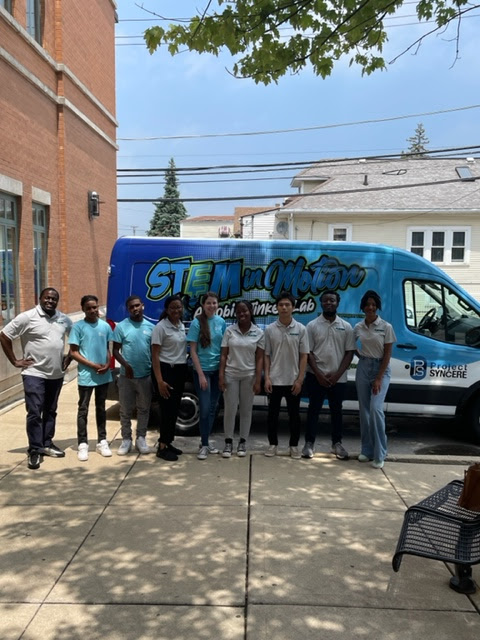 With funds from a LEGO Foundation grant, Project SYNCERE purchased two vans and outfitted them with a wide range of hands-on STEM learning materials, including LEGO Education BricQ Motion sets, Modular Robotics Cubelets Robot Blocks, Sphero robots, and Makey Makey circuit boards and invention kits.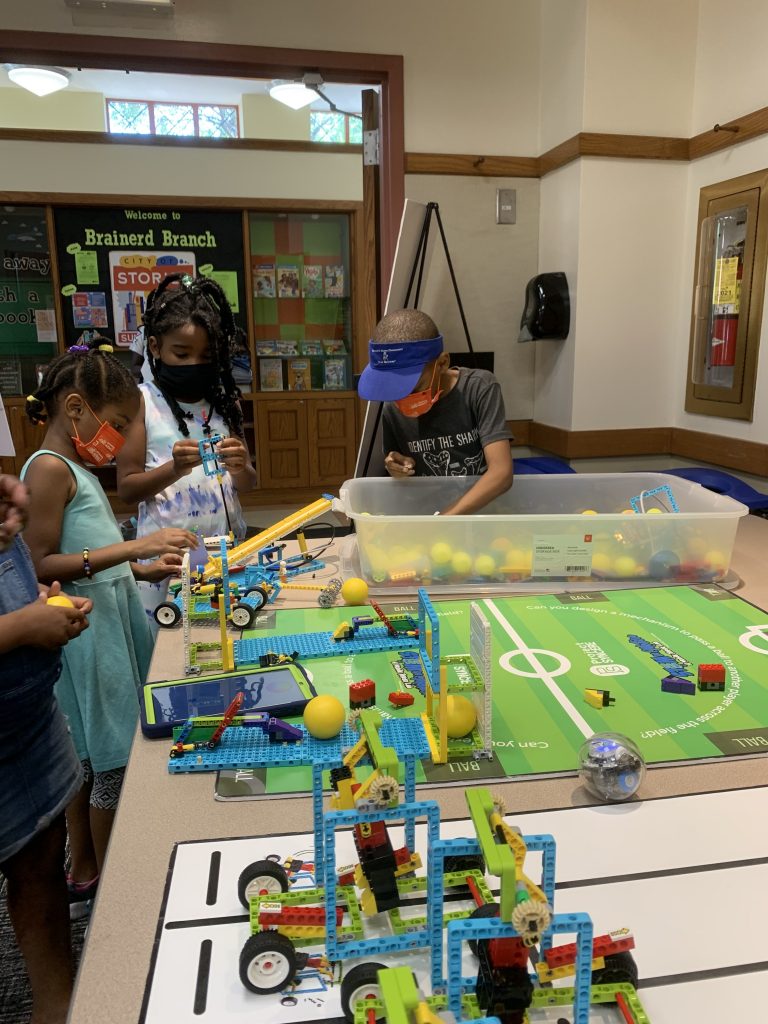 The TinkerLabs set up shop at four libraries three days a week throughout July and August, where children and families dropped in free of charge and learned together as they tinkered, experimented, and played. The dozens of tools and materials were designed to teach STEM concepts, including basic programming, circuitry, and physical science through playful, open-ended, and interactive challenges. One challenge asked participants to make a playable guitar using cardboard, aluminum foil, and a circuit board. Another asked them to design and code a robot to light up, move, and race.
Play-based learning gives children the opportunity to build powerful life skills and aptitudes, such as showing curiosity, creative problem-solving, and collaborating. These skills are integral to overcoming the social-emotional challenges posed by the COVID-19 pandemic and to thriving in a complex 21st century.

Adrianne Ball, Director of Programs, Project SYNCERE
Project SYNCERE worked with Tufts Center for Engineering Education and Outreach (CEEO) to develop play-based activities and curricula and provided online and in-person professional development to educators working at the TinkerLabs.
The STEM-in-Motion TinkerLabs also joined public summer events, including the Bronzeville Family Fest and the Bud Billiken Parade Family Fest (the second largest parade in the United States and the largest African American parade in the U.S.), which drew more than 230 people to its booth.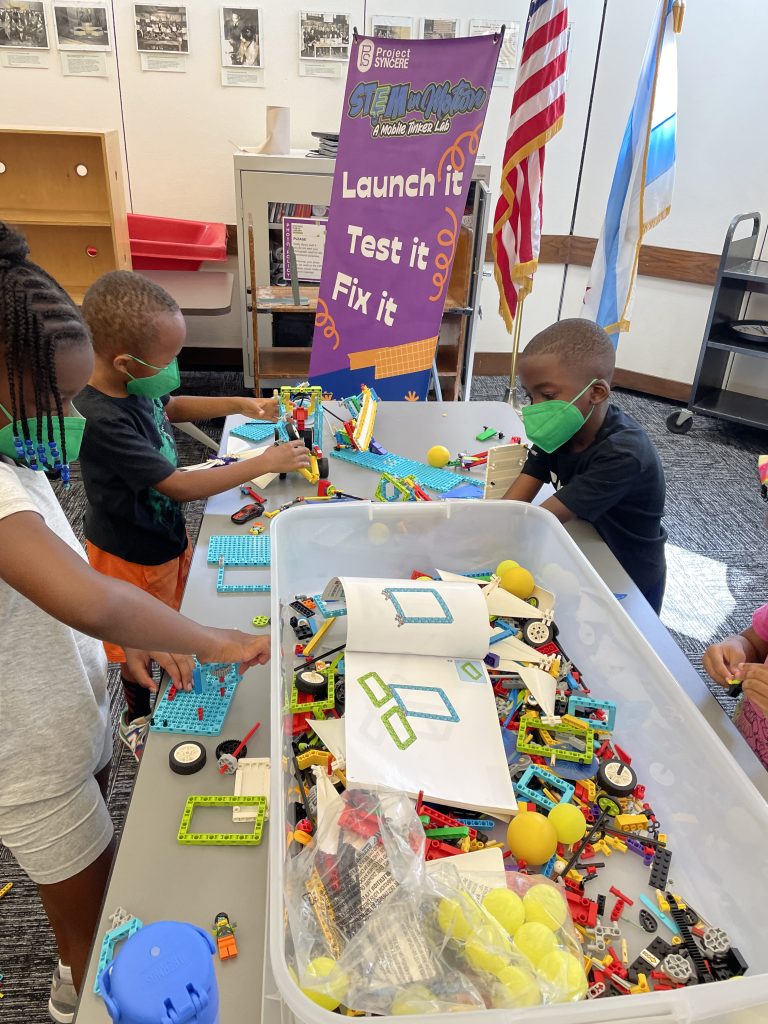 Play-based learning is not just for kids, said Adriênne Bolden, the Playful Engineering-Based Learning Fellow at Project SYNCERE. "Once parents saw what these devices could do, they were eager to learn and engage alongside their children," she said, adding that such parental involvement can support a child's academic and social-emotional learning.
"We're thrilled with the overwhelmingly positive response we received this summer," said Bolden. Families went home with more than 1,400 "swag bags" of playful STEM materials and books for at-home learning, she said. Holding her daughter's swag bag, one mother told facilitators she had no idea her daughter had any interest in the physics behind wooden ramps and balls until she saw her "play " in the TinkerLab. She and her daughter were eager to do more with these tools at home.
Because playful learning has such far-reaching benefits for kids–social-emotional, academic, and creative, to name a few–we want to help educators bring playful learning into their schools wherever they can,.

Adriênne Bolden, Playful Engineering-Based Learning Fellow, Project SYNCERE
Plans for the expansion of the program are already in motion. Project SYNCERE is in the process of training Chicago Public School teachers to facilitate playful STEM learning activities at their schools. The organization expects they can reach between 200 and 400 students by April 2023. In addition, STEM in Motion TinkerLabs are gearing up to return to Chicago public libraries and public events next summer. "Thanks to the LEGO Foundation grant and our collaboration with Tufts University, we now have the resources to replicate and scale this program so it reaches even more families next year," Bolden said.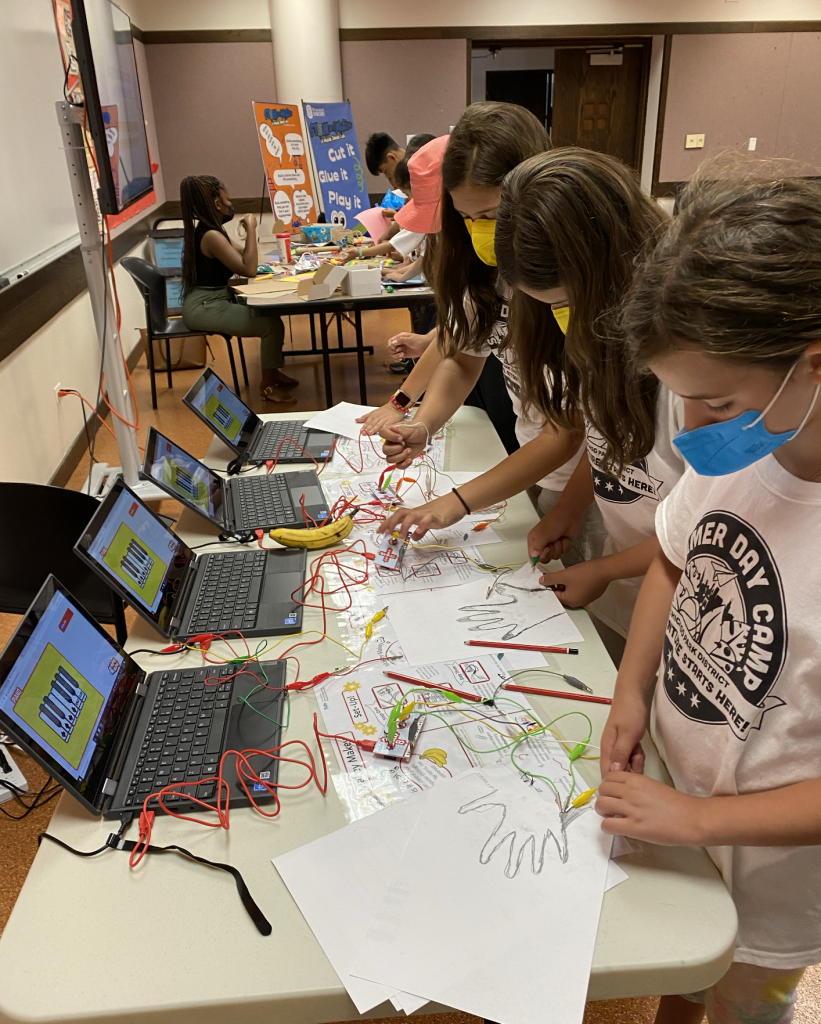 Last year, the LEGO Foundation awarded a $2.8 million grant to The Center for Engineering Education and Outreach at Tufts University to guide and support those collaborating organizations worldwide that engage in playful engineering-based learning. Project SYNCERE was one of those recipients.
About Project SYNCERE
Launched by three South Side Chicagoans in 2008, Project SYNCERE has served 25,000 students through their ENpowered in-school and after-school workshops and summer engineering programs for grades 3-12 as well as its flagship E-CADEMY, which prepares students in grades 6-11 for enrollment in post-secondary STEM programs. 93% of graduating seniors who have participated in Project SYNCERE programs have gone on to major in a STEM-related field. www.projectsyncere.org
About the LEGO FoundationThe LEGO Foundation aims to inspire and develop the builders of tomorrow – a mission that it shares with the LEGO Group. The LEGO Foundation is dedicated to building a future where learning through play empowers children to become creative, engaged, lifelong learners. Its work is about redefining play and reimagining learning. In collaboration with thought leaders, influencers, educators and parents, the LEGO Foundation aims to equip, inspire and activate champions for play. www.learningthroughplay.com