Project SYNCERE's STEM Labs Hit the Road This Summer
Project SYNCERE will take its playful engineering-based learning (PEBL) activities on the road to 60 Chicago neighborhoods this summer. The goal is to engage K-8 students from traditionally underrepresented communities with STEM (science, technology, engineering, and math) by making learning fun.
The organization's play-based approach is an innovative departure from the way many children are taught STEM in school.
The biggest 'a-ha!' moment for many kids in our programs is when they realize they have the freedom to guide their own learning.

Adrianne Ball, Director of Programs at Project SYNCERE
Thanks to its collaboration with Tufts University Center for Engineering Education and Outreach (CEEO) and a grant from the LEGO Foundation, Project SYNCERE has purchased two vans, called STEM-in-Motion Tinker Labs, and equipped them with high-tech and low-tech engineering resources and tools. In addition, Project SYNCERE has hired staff to run STEM activities at 60 public libraries across the North and South sides of Chicago. (Full Schedule)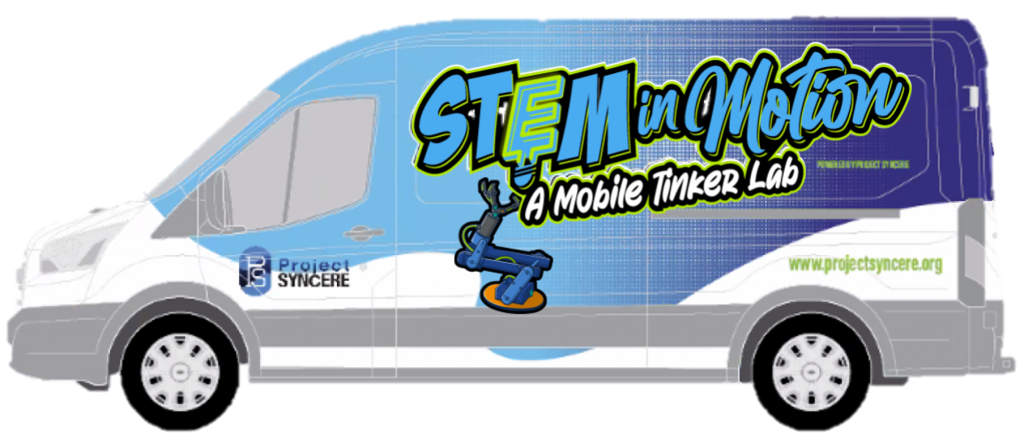 At each neighborhood the labs visit, children will participate in play-based challenges around the theme of "City of Stories." Using life-sized tinker sets, LEGO kits, robotics, electronics, and ramps, participants can design, build, and create structures, vehicles, robots, and more using their own neighborhoods as inspiration.
The freedom to play is essential. The more we play, the more inventive we become, and the more empowered students feel over their learning. Less than 12.5% of engineering bachelor's degrees are awarded to underrepresented minorities. By offering children hands-on, playful learning opportunities, we are working to change that.

Adriênne Bolden, PEBL Fellow at Project SYNCERE
By engaging with creative engineering challenges, children more-deeply learn and apply STEM concepts. They also think critically, break down processes, and problem-solve. "This is the engineering design process in action," said Bolden, a mindset which she hopes children will use throughout their lives, whether they study or work inside or outside the STEM field.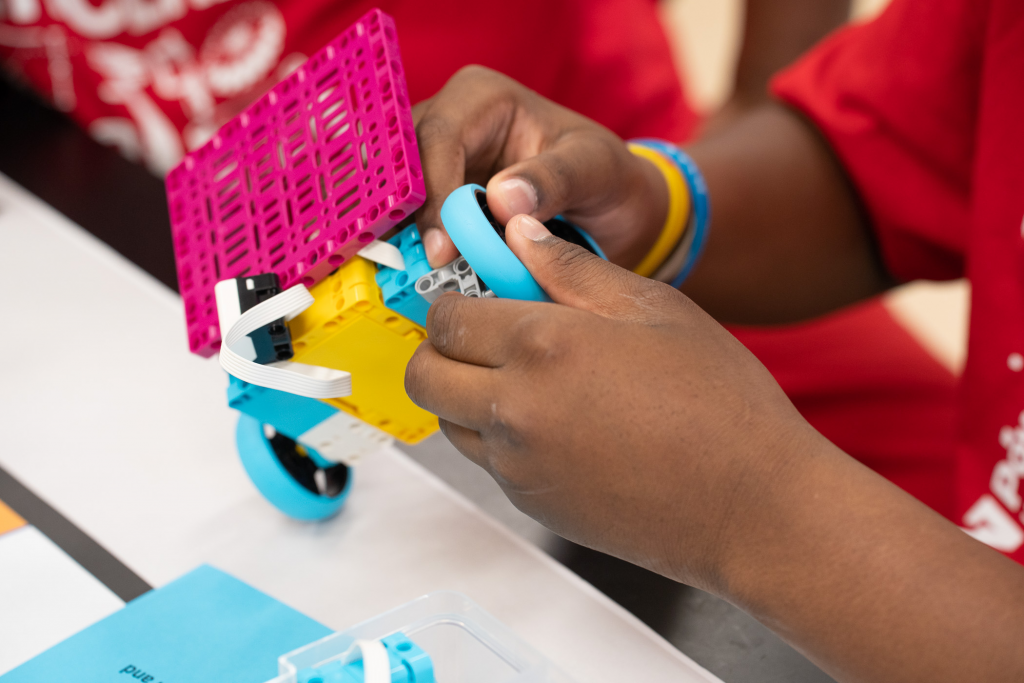 Project SYNCERE will host an in-person and virtual gallery walk where children can share their creations. Take-home tinker kits will promote further engagement with playful-based engineering concepts and Project SYNCERE programs.
Project SYNCERE was awarded the LEGO Foundation Playful Engineering-based Learning (PEBL) grant through its collaboration with Tufts University Center for Engineering Education and Outreach (CEEO), which co-designed the STEM-in-Motion curriculum with Project SYNCERE. The university also provided the organization's teaching staff with professional development training in playful-based engineering concepts as well as in strategies for evaluating student outcomes. "If students leave our labs feeling inspired, curious, motivated, and happy, then we've done our job," said Ball.
About Project SYNCERE
Launched by three South Side Chicagoans in 2008, Project SYNCERE has served 25,000 students through their ENpowered in-school and after-school workshops and summer engineering programs for grades 3-12 as well as its flagship E-CADEMY, which prepares students in grades 6-11 for enrollment in post-secondary STEM programs. 93% of graduating seniors who have participated in Project SYNCERE programs have gone on to major in a STEM-related field. www.projectsyncere.org
About the LEGO Foundation
The LEGO Foundation aims to inspire and develop the builders of tomorrow – a mission that it shares with the LEGO Group. The LEGO Foundation is dedicated to building a future where learning through play empowers children to become creative, engaged, lifelong learners. Its work is about redefining play and reimagining learning. In collaboration with thought leaders, influencers, educators and parents, the LEGO Foundation aims to equip, inspire and activate champions for play.