Project SYNCERE Brings Playful Engineering-Based Learning to Thousands of Students in 65 Communities across Chicago
Founded in 2008, Project SYNCERE (PS) works to help thousands of Chicago-area students gain access to STEM activities that help them see STEM careers as a possible future. Partnering with 50 different schools, they've exposed over 20,000 students to STEM-related fields. With the LEGO Foundation Playful Engineering-Based Learning (PEBL) grant, they sought to expand their reach even further by providing summer programs at Chicago Public Libraries. In the summer of 2022, Project SYNCERE's team rolled up to each library with their new vans and a wide variety of hands-on activities for thousands of students to try.
The PEBL initiative supported Project SYNCERE in acquiring two vans and transforming them into mobile makerspaces. The vans were branded as "STEM in Motion: A Mobile Tinker Lab" and stocked with materials for STEM activities, including LEGO, Sphero, Cubelets, Makey Makey, large-scale ramps, craft materials, and more.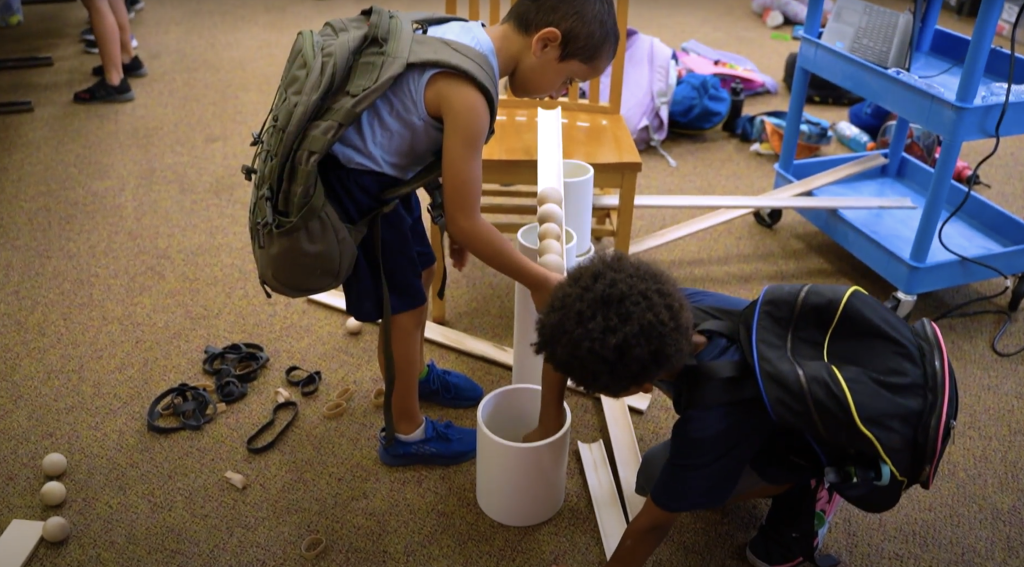 Once the school year ended, the vans started rolling out to over 60 different Chicago Public Libraries, setting up shop at each site. Students could choose between different stations where they could build a LEGO Robot, code Sphero to navigate a maze, build a Makey Makey instrument, or solve a challenge with LEGO Duplo materials. With the freedom to move between stations, students could follow their interests and spend time with the technologies that interested them the most.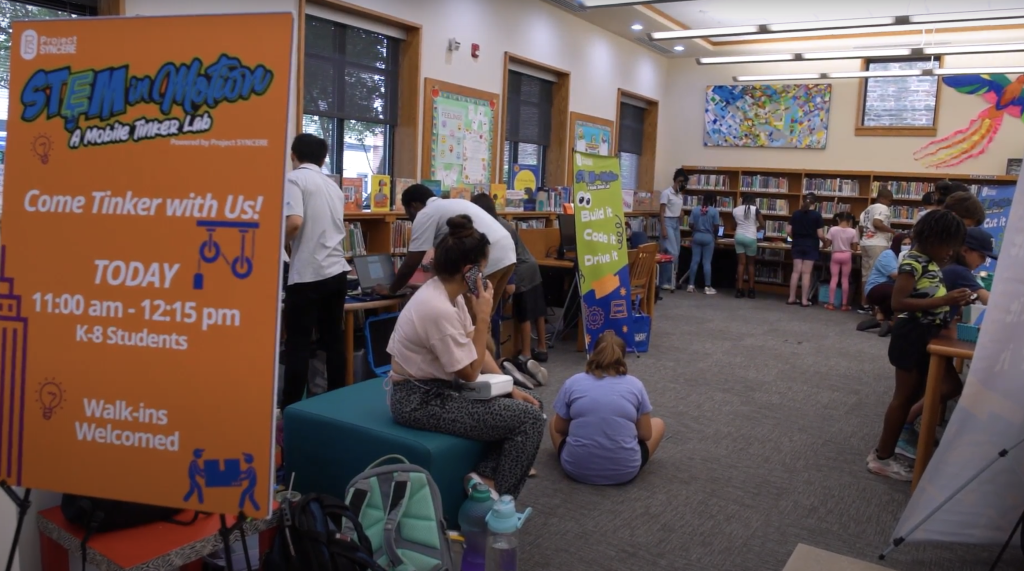 While the vans were being prepared, summer staff received training on how to facilitate hands-on STEM activities. PS hired three full-time instructors and four assistants to run activities at each of the libraries. Each completed an extensive professional development course co-designed with Tufts Center for Engineering Education and Outreach. They learned how to use all the different technologies as well as the best practices for learning through play. 
More than 2,750 people (2237 youth and 513 adults) participated in the summer programs at 65 different locations. Students left with swag bags that included an activity kit so students could continue to do engineering at home.

Adults were asked to complete a mobile survey to measure their satisfaction with the programming. Results were overwhelmingly positive with 100% of respondents satisfied with the activities 99% satisfied with the staff, 97% satisfied with the content, and 89% said they would recommend Project SYNCERE. 
The STEM in Motion Mobile Tinker Labs are back on the road this summer, again partnering with Chicago Public Libraries and bringing PEBL to children all over Chicago.