Wednesday March 31st from 3:00-6:00 PM EST.
Pre-registration at https://mpde.careerfairexpo.com/en/registration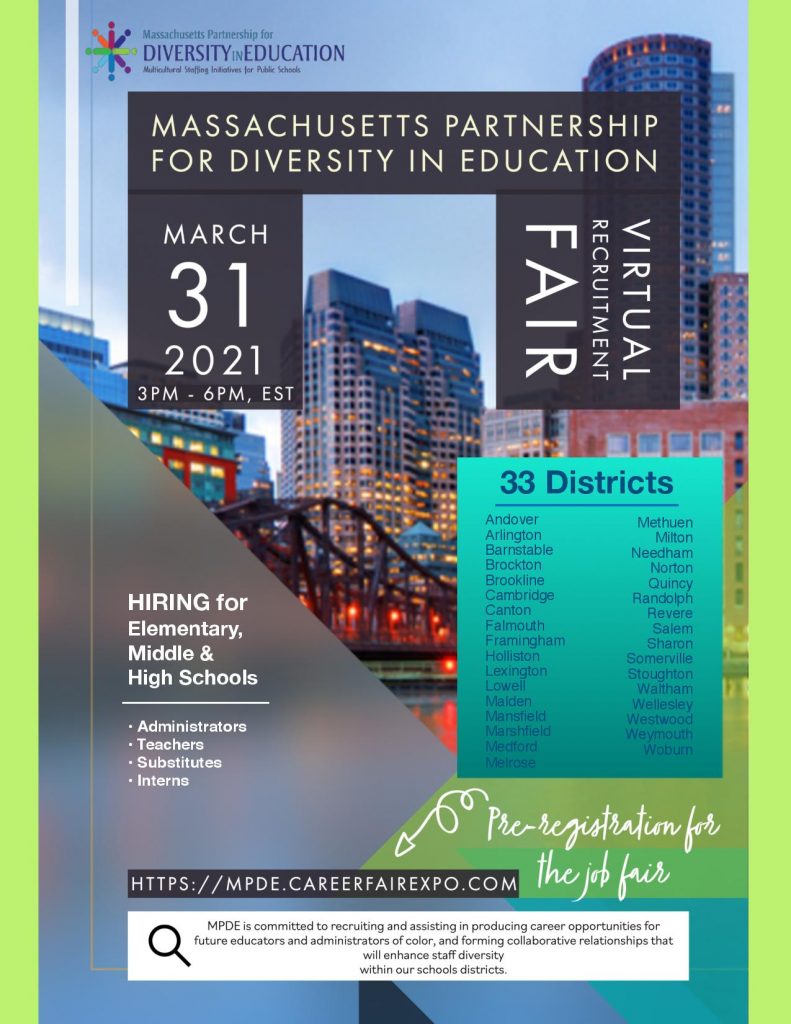 Supervisor: Director of Intern's Program/ Dean of Faculty
Salary: $22,000 per annum
Institutional Background
The Chestnut Hill School, founded in 1860 and located in Newton, Massachusetts, is a co-educational, independent school educating students from Beginners (age 3) through Grade 6. The School lives its mission of academic excellence, diversity and community, believing strongly that all must be in place in order for graduates to have a deep sense of themselves as thoughtful students, skilled learners, and confident leaders who will become responsible, contributing members of the world. CHS prides itself on graduates who stand up for their beliefs, express their thoughts, and care about the rights and feelings of others. Most of all, CHS is seeking individuals willing to join a strong, warm and deeply committed diverse school community.
Position summary
Intern teachers support lead teachers in the implementation of the academic program in grades K-6 as they gain experience to prepare for careers in education.
The Intern Teacher will:
Support the mission of the school.
Ensure the safety and well-being of all students.
Teach homeroom subjects in partnership with the cooperating teacher.
Lead Open Circle Meetings in partnership with the cooperating teacher (as appropriate).
Participate in and support the planning for special events/activities.
Attend regular planning, grade-level, staff meetings, and intern cohort meetings as scheduled.
Help to manage classroom transitions, including walking students to specials, lunch, and recess.
Attend special subject classes as needed.
Attend Faculty Professional Development Days, Curriculum Night (September) and Carnival(September).
Contribute to reports each term.
Attend parent-teacher conferences.
Contribute to communications to CHS families, including weekly website updates.
Support the tone for routines and behavioral expectations set by the cooperating teacher.
Reinforce any language, consequences, or strategies as appropriate.
Maintain open two-way communication with cooperating teacher.
Perform arrival, dismissal, recess, and other duties as assigned.
Position Requirements:
Experience working with children
Proven ability to collaborate effectively with colleagues
Commitment to fostering an inclusive and diverse learning environment
Excellent verbal and written communication skills
Continue reading

Looking for a dynamic & enthusiastic teacher, who can help 6 second grade children stay focused while doing remote school learning, and also provide activities during break time, explain material, add enrichment classes, and create a fun and positive environment.
Days at home: Monday, Tuesday & Wednesday (if school closes we will need all week) and if looking for full time we can do that for other 2 days.

Schedule: 8am-2 p.m. During that time kids need to go online to do art, PE, library & music (depending on the day, total of 2.5 hours), they need supervision during those times. The rest is reviewing math, writing, reading, and do fun activities like crafts and excercise.
Hepa filtering and proper ventilation will be available.
Interested people please contact Aurora De Luca at 617-386-0793 or email aurora@auroradeluca.com