Fish, science, and infrastructure: Another piece of the food system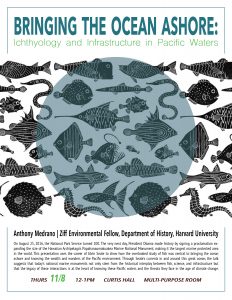 Join Harvard History Professor and Ziff Environmental Fellow Anthony Medrano for an Environmental Studies Lunch & Learn to discuss how marine knowledge and research has impacted the founding of protected marine areas in the United States, and the importance of science in protecting our oceans as the earth faces the detrimental effects of climate change. Although the talk doesn't focus directly on food, it will raise important questions about an often-forgotten dimension of our food system.

Thursday, November 8, 2018
12:00-1:00pm | Lunch Provided
Curtis Hall, Multi-Purpose Room
Watch Live: http://bit.ly/LunchLearnENVS
---
On August 25, 2016, the National Park Service turned 100. The very next day, President Obama made history by signing a proclamation expanding the size of the Hawaiian Archipelago's Papahanaumokuakea Marine National Monument, making it the largest marine protected area in the world. And yet, while we know how this protected geography came to be—it was established by President Bush in 2006 and enlarged by President Obama in 2016—we know far less about the ways in which the U.S. came to understand and value the Pacific's biological diversity. This presentation uses the career of Alvin Seale (1871-1958) to show how the overlooked study of fish was central to bringing the ocean ashore and knowing the wealth and wonders of the Pacific environment. Through Seale's currents in and around this great ocean, the talk suggests that today's national marine monuments not only stem from the historical interplay between fish, science, and infrastructure but that the legacy of these interactions is at the heart of knowing these Pacific waters and the threats they face in the age of climate change.