Veg-Out dinner at Dewick Nov 9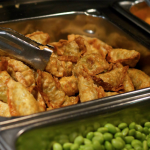 What does the next generation of vegetarian and vegan food taste like? Come find out at the Veg-Out dinner at Dewick, Wed Nov 9, 2016, presented by Tufts Eco-Reps and Tufts Dining.
Recipes will be chosen from submissions to the vegetarian and vegan recipe contest held in October. You'll get to vote for the winners!