Nov 10 ENV Lunch & Learn focuses on bio-hazards for urban chickens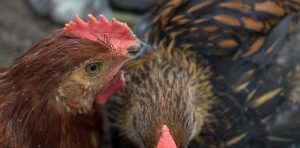 What's in the backyard soil that all those happy urban chickens are pecking in? Join Marieke Rosenbaum, Research Assistant Professor in Public Health and Community Medicine, to hear about Tufts' CLUC (Chickens Living in Urban Coops) study, which focuses on public health and bio-security concerns that may be associated with urban chicken ownership.
Read more about the presentation and Dr. Rosenbaum's work here.
Rabb Room, Lincoln Filene Center
12-1 pm
Thursday, Nov 10