Farmer resilience in Puerto Rico after Hurricane Maria – Jan 17 L&L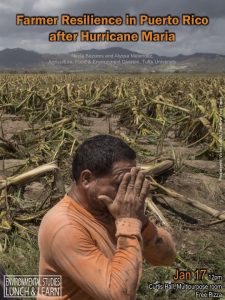 This semester's Environmental Studies Lunch and Learn series kicks off with a presentation by two Friedman school graduate students, Maria Nayla Bezares and Alyssa Melendez. Both are in the Agriculture, Food and Environment program, and they'll be speaking about the results of a qualitative study which collected and assessed primary-source information about the effectiveness and reach of agricultural programs and policies to respond after a climatological disaster, build resilience among farmers, and enable them to return to markets.
The speakers and the study are particularly focused on agroecological approaches to farming and how they influence farmers' resilience in the face of climate volatility.
Thursday, Jan 17, 12 pm
Curtis Hall
Free pizza!
Click image above to expand the poster