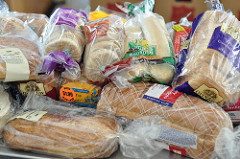 Andy Fischer, author of the recent book Big Hunger: The Unholy Alliance between Corporate America and Anti-Hunger Groups (MIT Press, 2017), will be speaking at Harvard Law School this Tuesday, Dec 5 from 12-1 pm.
Fischer is a long-time anti-hunger activist who is trying to redirect attention to the underlying reasons for systemic food insecurity–which he sees primarily as economic inequality driven by low wages–as a way to rethink an "emergency food system" that was never intended to become permanent.
The event is sponsored by the Harvard Law School Food Law and Policy Clinic and the Harvard Food Law Society. More info here.