Events
Every year, TUPIT organizes a series of programs about issues related to justice and U.S. incarceration. Drawing heavily on the
March 16, 2021. 7:30 – 9:30 p.m. TUPIT is hosting a screening of Erika Cohn's film, "Belly of the Beast," which is "a powerful exposé of human rights abuses of women in the criminal justice system."
News & Media
Select stories appear below. A complete listing is available here.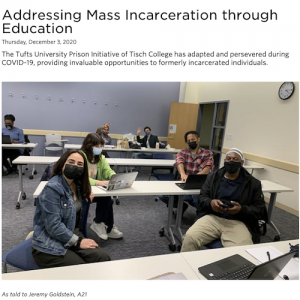 Tisch College | December 3, 2020
Addressing Mass Incarceration through Education, The Tufts University Prison Initiative of Tisch College has adapted and persevered during COVID-19, providing invaluable opportunities to formerly incarcerated individuals.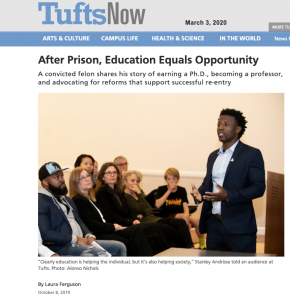 Tufts Now | Oct. 8, 2019
After Prison, Education Equals Opportunity, Dr. Stanley Adrisse, a convicted felon, shares his story of earning a Ph.D., becoming a professor, and advocating for reforms that support successful re-entry.