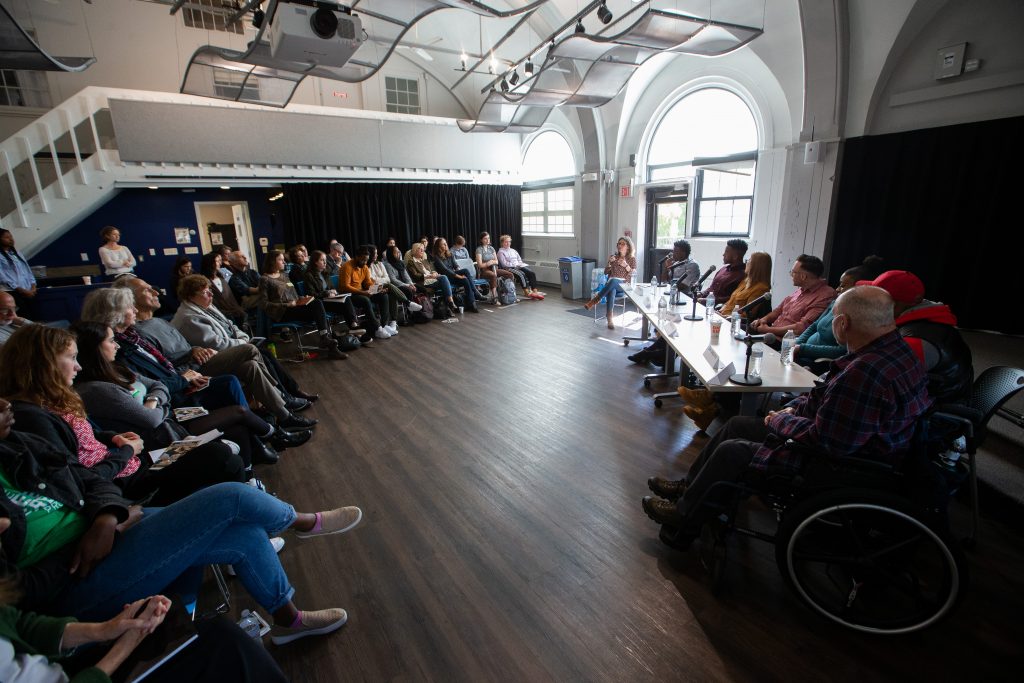 Director of the Tufts University Prison Initiative of Tisch College, Hilary Binda has a PhD in English, serves as Director of the Tufts Program in Women's, Gender, and Sexuality Studies, and is a Senior Lecturer in Civic Studies. Her current research aims to support the development of educational access, equity, and decriminalization.
Journal Coordinator: John Lurz
TUPIT Faculty Advisory Committee Members
Hilary Binda, Civic Studies, Women's, Gender, Sexuality Studies, A&S, CHAIR
Bridget Conley, World Peace Foundation, Fletcher School
Heather Curtis, Religion; Race, Colonialism, and Diaspora, A&S
Greg Crane, Classics, A&S
Kim Dong-Breen, Public Health, Tufts School of Medicine
Kevin Dunn, English, A&S; Vice Provost
Daanika Gordon, Sociology, A&S
Kirby Johnson, Tufts School of Medicine; Office of the Vice Provost for Research
Erin Kelly, Philosophy, A&S
Peter Levine, Political Science; Civic Studies, A&S; Associate Dean of Tisch College
John Lurz, English, A&S
Heather Nathans, Theater, Dance, and Performance Studies; Dean of Academic Affairs; Associate Dean of Diversity and Inclusion, A&S
Kim Ruane, Math, A&S
Jill Weinberg, Sociology, A&S
Chantal Zakari, Graphic Arts, School of the Museum of Fine Arts at Tufts University
Amy Millay, Romance Studies, A&S
TUPIT Faculty & Courses
Faculty join the program from across Tufts University, and offer a wide array of courses to the TUPIT students.
Faculty listed below by school, with Tufts courses taught in the college-in-prison program.
Liz Ammons and Modhumita Roy, Environmental Justice and World Literature
Hilary Binda, Poetry and Visual Art; Gender and Literature; Writing Composition
Gregory Crane, Comparative Epic
Heather Curtis, Religion and Politics in American History
María-Concepción Lagunas Davis, Spanish Language
Kevin Dunn, The English Bible; Short Fiction
Susan Ernst; Introduction to Biology
Jennifer Eyl, From Jesus to Yeezus
Daanika Gordon, Sociology of Race and Ethnicity
Erin Kelly, Introduction to Philosophy, Introduction to Civic Studies
Dana Leeman, Mentorship and the Adult Learner
John Lurz, General View of English Literature
Heather Nathans, Acting Shakespeare
Stephan Pennington, History of African American Music
Quinn Phillips, The Apology
Kim Ruane, Quantitative Reasoning, Financial Math and Intro to Coding
Suzy Russinoff, Ethics Bowl facilitation
Jill Weinberg, Sociology of Law
Daanika Gordon, Sociology of Race and Ethnicity
Roshad Meeks and Taylor Parrish, Environmental Justice and World Literature
Conchita Davis, Spanish
Amy Millay, Spanish
Stephan Pennington, History of African American Music
Ravi Shankar, Memoir Writing, Poetry
Stephen Muscolino, English
Lloyd Sheldon Johnson, Introduction to Psychology
Adaner Usmani, Introduction to Social Theory
Shakir Abdullah
Abdurrahim Gray
Joseph Irizarry
Davon McNeil
TUPIT Student Coordinators
BR Rose



Meira Downie
Emile Naccasha
Lizzie Friedman
Jack Steen
Evan Zlotnick
Program Research & Assessment Committee
Hilary Binda, Kim Dong, Daanika Gordon, Claudia Guetta, Ella Missan, Jill Weinberg