"It's Like a Game of Monopoly"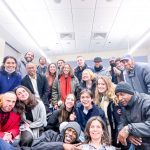 In this episode, Bobby Iacoviello, Hector Bannister and Martin O'Brien discuss their experiences with the US court system. They consider how and when the legal system strips people of their individual voices and the many systemic flaws of our capitalist, carceral state. Finally, they offer insights into how they can reclaim their voices and seek accountability and healing through alternative forms of justice.
Content Warning: This podcast series contains material about emotional and physical trauma and abuse — especially experienced by women and BIPOC — that may be upsetting to some audiences.