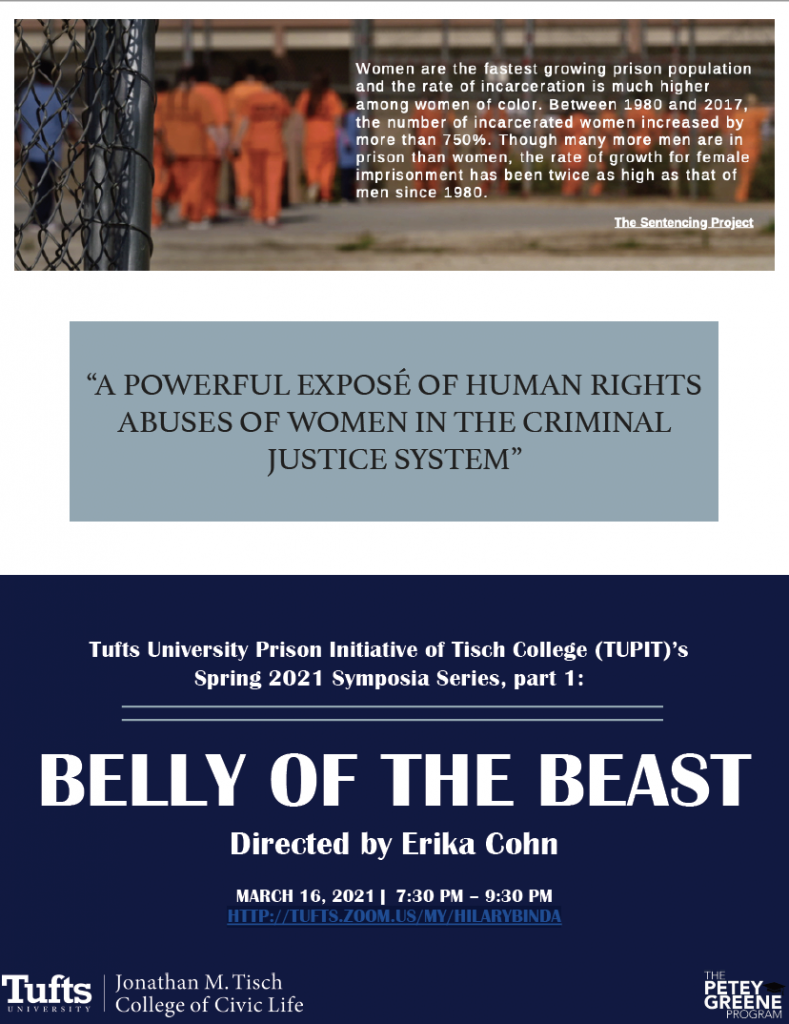 Belly of the Beast
March 16, 2021, 7:30 – 9:30 p.m.
TUPIT is hosting a screening of Erika Cohn's film, "Belly of the Beast." The film is described as "a powerful exposé of human rights abuses of women in the criminal justice system." Join the screening at HTTP://TUFTS.ZOOM.US/MY/HILARYBINDA.
This event is co-sponsored with the Jonathan M. Tisch College of Civic Life and the Petey Greene Program.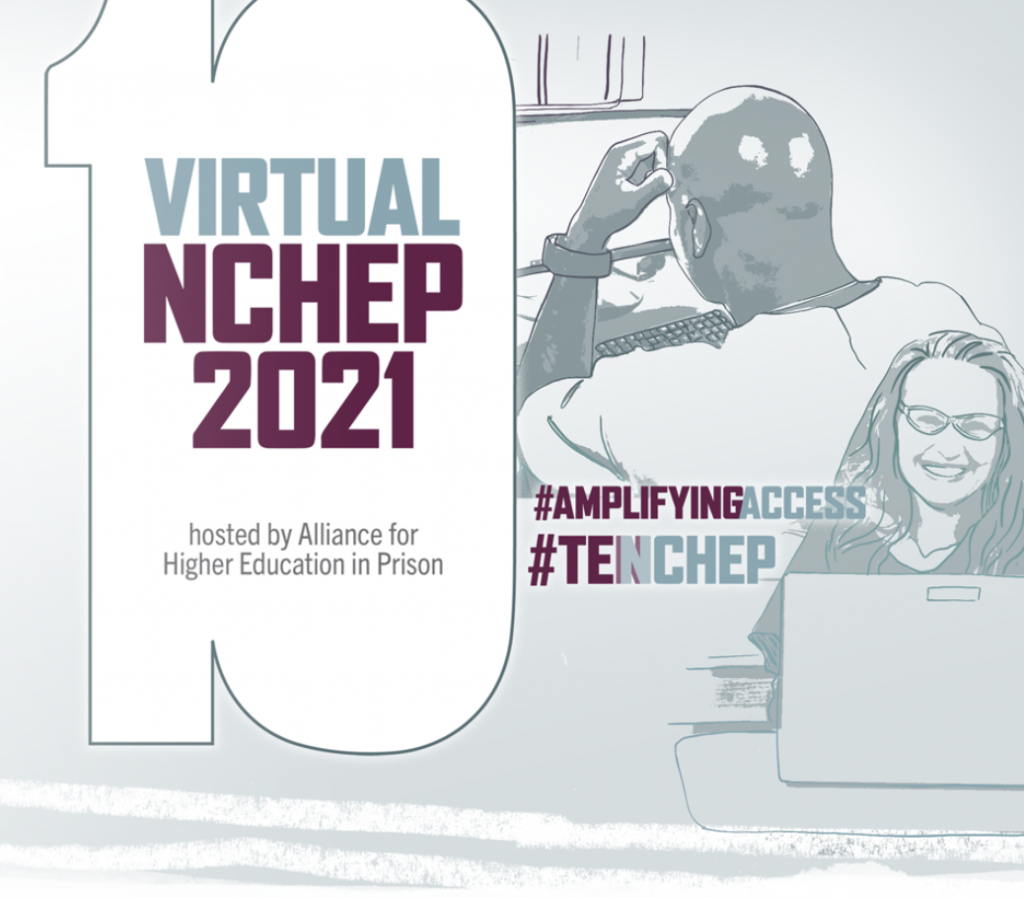 Virtual National Conference on Higher Education in Prison (NCHEP) – Amplifying Access
March 2, 2021, 1:00 – 2:00 p.m.
College, Responsibility, Re-entry: MyTERN, A Collaboration Between College, Community, and Corrections
Hilary Binda, Tufts University, Tufts Educational Re-entry Network (TERN); Arthur Bembury, Partakers, College Behind Bars Mentoring, TERN; Claudia Guetta, Tufts University, TERN; Shakir Abdullah, TERN; Joseph Irizarry, TERN; Davon McNeil, TERN; Arlice Daveiga, TERN; Calvena Davoe, TERN; Hector Bannister, TERN; Rahim Gray, TERN; Jim Carey, Project Place, TERN; Kim Ruane, Tufts University, TERN
This event is a TUPIT-TERN panel within the week-long first ever Virtual National Conference on Higher Education in Prison (NCHEP)
BRIDGES AFTER INCARCERATION SYMPOSIA SERIES is generously sponsored by: Tufts Springboard; the AS&E Diversity Fund; Women's, Gender, and Sexuality Studies; Theatre, Dance, and Performance Studies; English; Religion, Anthropology; Sociology; CELT (Center for Excellence in Teaching and Learning); and The Tisch College of Civic Life.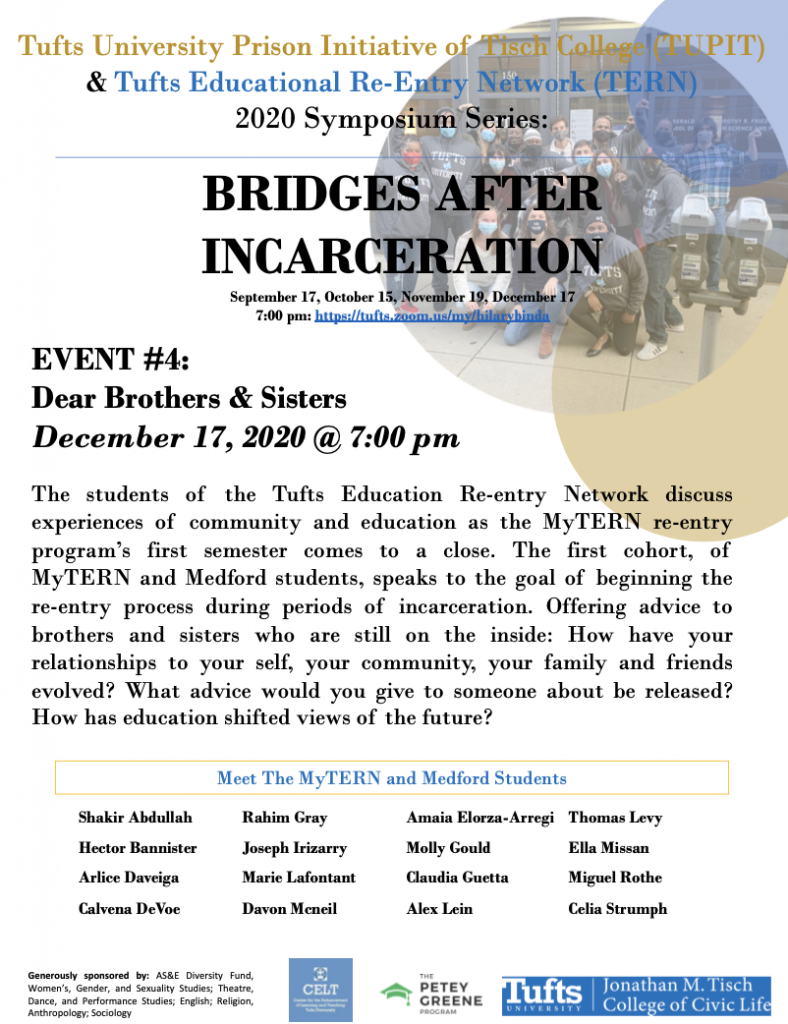 Dear Brothers & Sisters
December 17, 2020, 7:00 p.m.
The students of the Tufts Education Re-entry Network (TERN) discuss experiences of community and education as the MyTERN re-entry program's first semester comes to a close. The first cohort of MyTERN and Medford students speaks to the goal of beginning the re-entry process during periods of incarceration. MyTERN students offer reflections on re-entry to our brothers and sisters who are still serving time, specifically addressing how our relationships to ourselves, our communities, our family and friends have evolved. And how has education shifted our views of the future.
---
College, Community, and Coming Home
November 19, 2020, 7:00 p.m.
Formerly incarcerated MyTERN students of the Tufts Education Re-entry Network discuss the challenges of returning to society outside of prison and the impact of a college program like MyTERN, designed by and for people who have experienced incarceration. Students discuss how this combined program facilitates formerly incarcerated and other students at Tufts engaging in a community guided by a commitment to racial-gender and economic justice, abolition, and the value of educational and professional development at the intersection of higher education, civic engagement, re-entry, and social justice.
---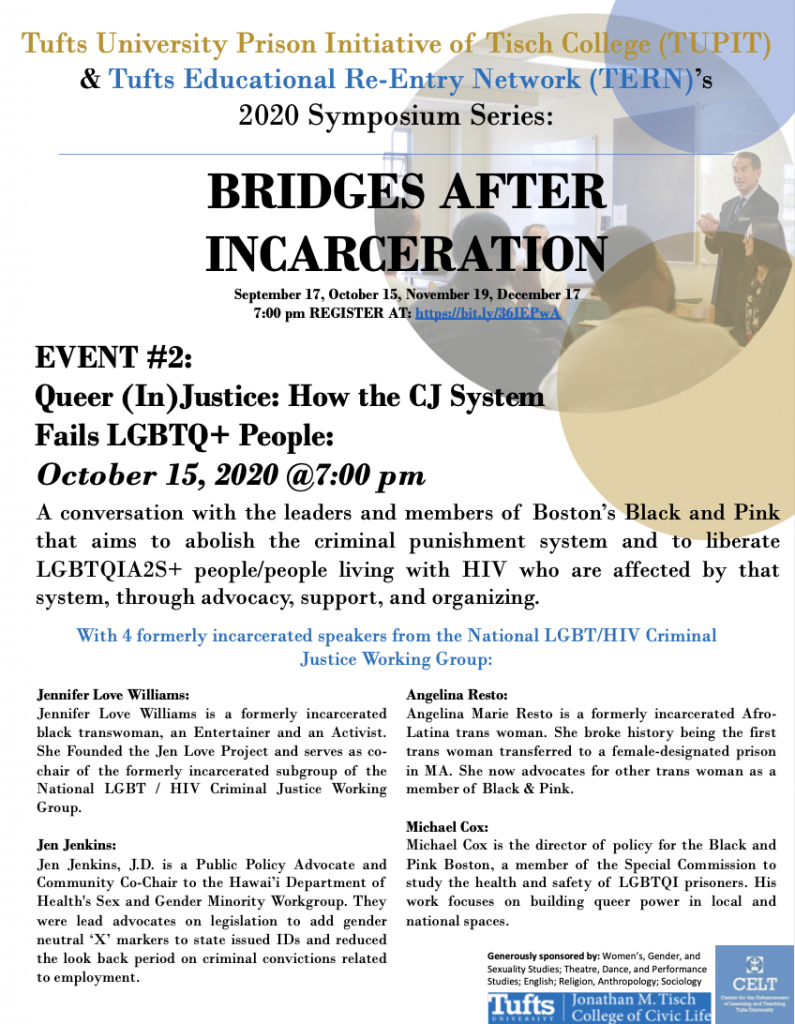 Queer (In)Justice: How the CJ System Fails LGBTQ+ People
October 15, 2020, 7:00 p.m.
A conversation between TUPIT Director and WGSS/Civic Studies Professor Hilary Binda and the leaders and members of Black and Pink Boston that aims to abolish the criminal punishment system and to liberate LGBTQIA2S+ people/people living with HIV who are affected by that system, through advocacy, support, and organizing.
Speakers:
Michael Cox is the director of policy for the Black and Pink Boston, a member of the Special Commission to study the health and safety of LGBTQI prisoners. His work focuses on building queer power in local and national spaces.
Jennifer Love Williams is a formerly incarcerated black transwoman, an Entertainer and an Activist. She Founded the Jen Love Project and serves as cochair of the formerly incarcerated subgroup of the National LGBT / HIV Criminal Justice Working Group.
Jen Jenkins, J.D. is a Public Policy Advocate and Community Co-Chair to the Hawai'i Department of Health's Sex and Gender Minority Workgroup. They were lead advocates on legislation to add gender neutral 'X' markers to state issued IDs and reduced the look back period on criminal convictions related to employment.
Moderated by TUPIT Director, Hilary Binda.
---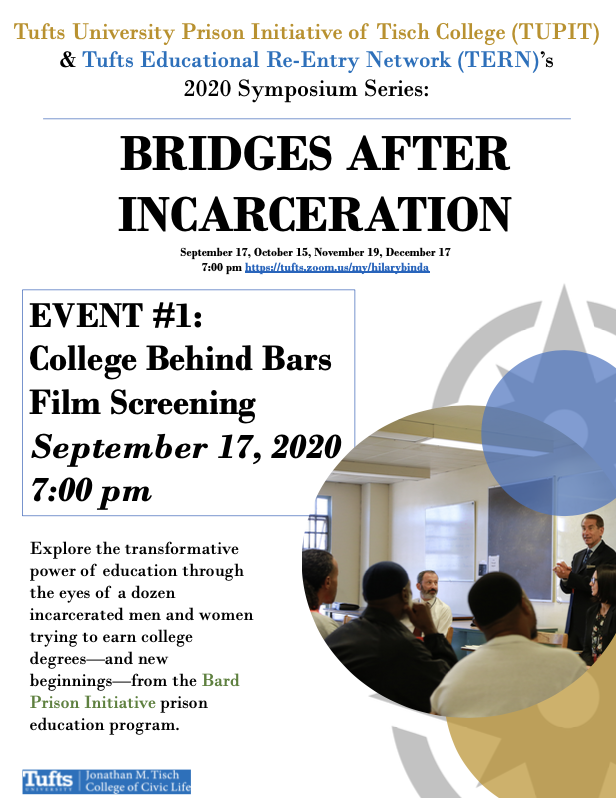 College Behind Bars: Film Screening
September 17, 2020, 7:00 p.m.
Explore the transformative power of education through the eyes of a dozen incarcerated men and women trying to earn college degrees–and new beginnings–from the Bard Prison Initiative prison education program.