First Day In, Last Day In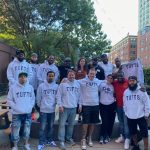 In this episode, Nurudeen, Marty, Nigel and Rome discuss their first and last days in prison and the challenges they faced while starting their lives outside of prison after serving lengthy prison sentences. They share stories of education behind the wall and turning points in their personal growth.
Content Warning: This podcast series contains material about emotional and physical trauma and abuse that may be upsetting to some audiences.
Speakers: Nurudeen Alabi, Marty O'Brien, Nigel Vaughn, and Rome Chacon
Additional Editors: Sophie Szwartz, Julia Napolitan, and Paola Ruiz