Fall 2018
Tufts Lectures Series at MCI-Shirley
Fridays, 1:00 – 3:00
September 14 – December 21
Hilary Binda, English + Gender Studies Poetry is Not a Luxury
Kim Ruane, Math, Math as a Language
John Lurz, English The Importance of the Page: Virginia Woolf's Novels
Kevin Dunn, English + Religion Justice and The Book of Job
Stephan Pennington,Music The 1960s Civil Rights Movement and Song
Carolyn Rubin, Public Health + Community Health, Race, Ethnicity, and Health
Heather Nathans, Drama and Dance Shakespeare and American Popular Culture
Erin Kelly, Philosophy Introduction to Philosophy and Ethics
Modhumita Roy and Professor Liz Ammons, English + Environmental Studies, Environmental Justice and Literature
Susan Ernst, Biology, The Biology and Potential of Stem Cells
Jim Glaser, Political Science, What Makes a Great President?
Eulogio Guzmán, Art History + Architecture Latin American Art, Dynamic Cultural Exchanges in the Americas
Hilary Binda, English + Gender Studies, Higher Education in Prison
---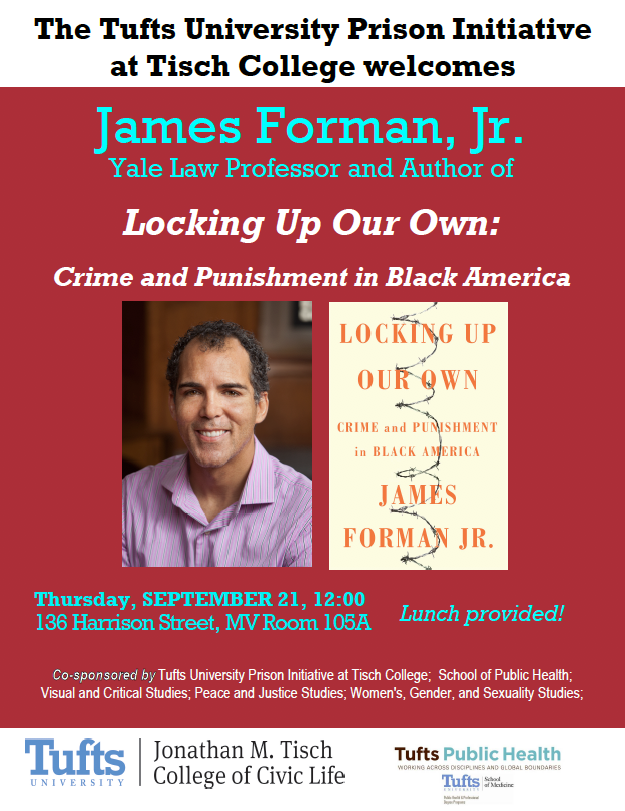 Locking Up Our Own: Crime and Punishment in Black America
James Forman, Jr., Yale University
September 21, Noon.
136 Harrison Street, MV Room 105 A
Co-sponsored by Tufts University Prison Initiative at Tisch College; School of Public Health; Visual and Critical Studies; Peace and Justice Studies; Women's, Gender, and Sexuality Studies.
---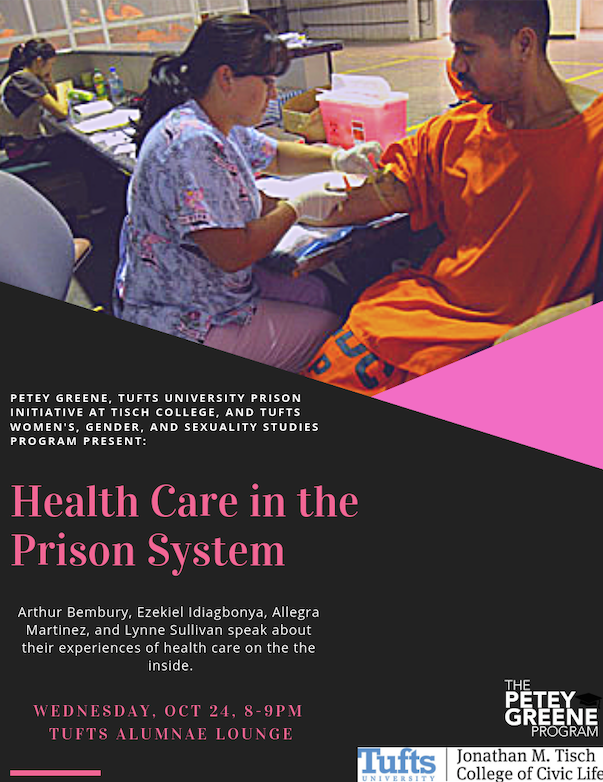 Health Care in the Prison System
Wednesday, October 24, 8:00 – 9:00 p.m.
Tufts Alumnae Lounge
Arthur Bembury, Ezekiel Idiagbonya, Allegra Martinez and Lynne Sullivan speak about their experiences of health care on the inside.
Sponsored by Petey Green, TUPIt, Tufts Women's, Gender and Sexuality Studies Program.