"Coming Home: We're Right Where We're Supposed To Be"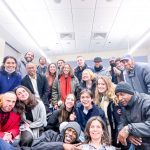 Bobby Iacoviello and Chaiya Chan discuss their connections before and after incarceration, and the role of changing and saving the lives of those they care about. From coaching football to keeping restorative justice circles, these two MyTERN students work to prevent youth from falling victim to the streets. Bobby and Chaiya reflect on the importance of mentoring, supporting communities, and relationship building.
Content Warning: This podcast series contains material about emotional and physical trauma and abuse — especially experienced by women and BIPOC — that may be upsetting to some audiences.
Episode Transcript