Every year, TUPIT organizes a series of programs about issues related to justice and U.S. incarceration. Drawing heavily on the expertise of formerly incarcerated people, these events, designed to educate our on-campus community, are free and open to the public. Community education is especially important for a program like TUPIT that aims to support the continuation of a student's education after prison as well, first through the MyTERN reentry program and, in some cases, next, through the bachelor's and advanced degree programs at Tufts University.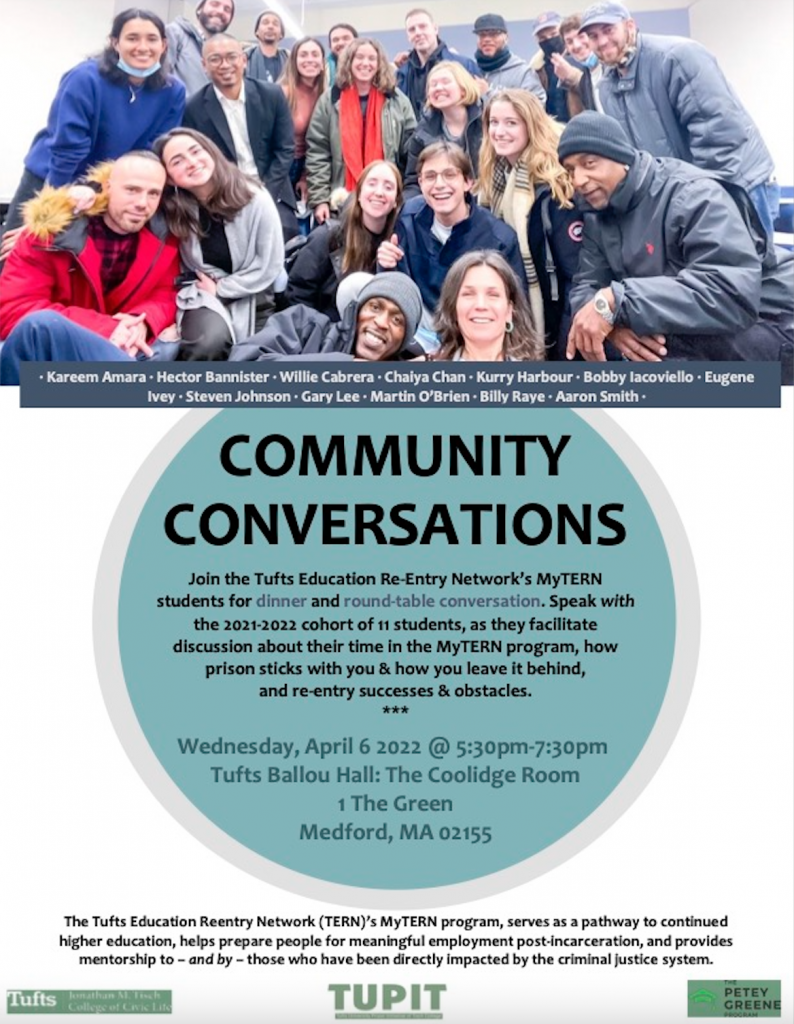 Community Conversations
Wednesday, April 6th, 2022 at 5:30 p.m. in Tufts Ballou Hall: The Coolidge Room
Join the Tufts Education Re-Entry Network's MyTERN students for dinner and round-table conversation. Speak with the 2021-2022 cohort of 11 students, as they facilitate discussion about their time in the MyTERN program, how prison sticks with you & how you leave it behind, and re-entry successes & obstacles.
Featuring Kareem Amara, Hector Bannister, Willie Cabrera, Chaiya Chan, Kurry Harbour, Bobby lacoviello, Eugene Ivey, Steven Johnson, Gary Lee, Martin O'Brien, Billy Raye, and Aaron Smith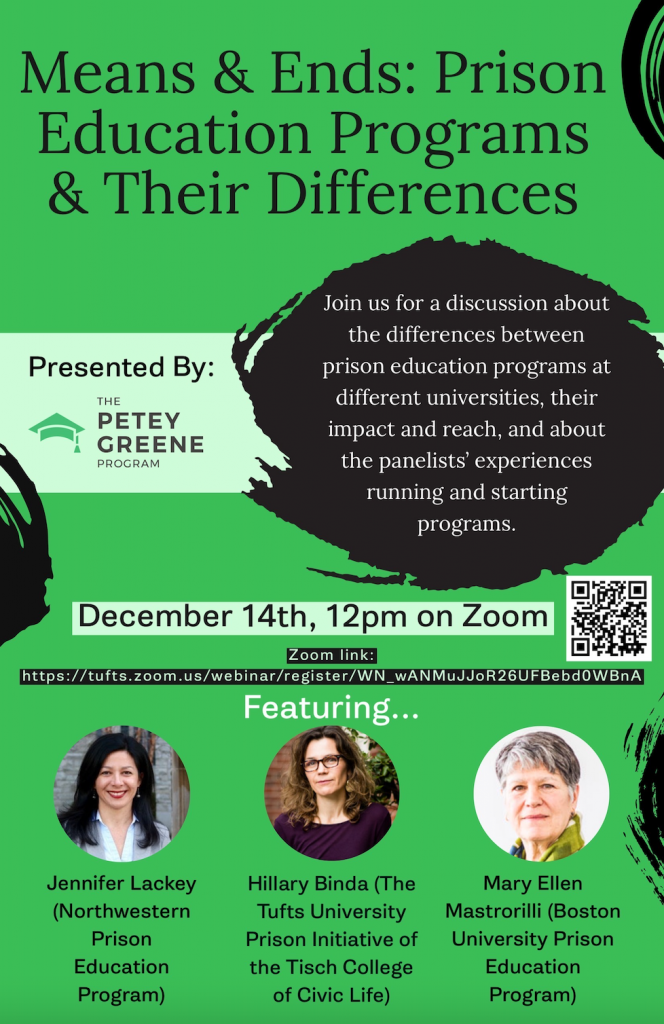 Means & Ends: Prison Education Programs and Their Differences
Tuesday, December 14th, 2021 at 12 p.m. on Zoom
Join us for a discussion about the differences between prison education programs at different universities, their impact and reach, and about the panelists' experiences running and starting programs. Click HERE to register for the virtual event.
Featuring Jennifer Lackey (Northwestern Prison Initiative), Hilary Binda (The Tufts University Prison Initiative of Tisch College), and Mary Ellen (Boston University Prison Education Program)
Presented by: The Petey Greene Program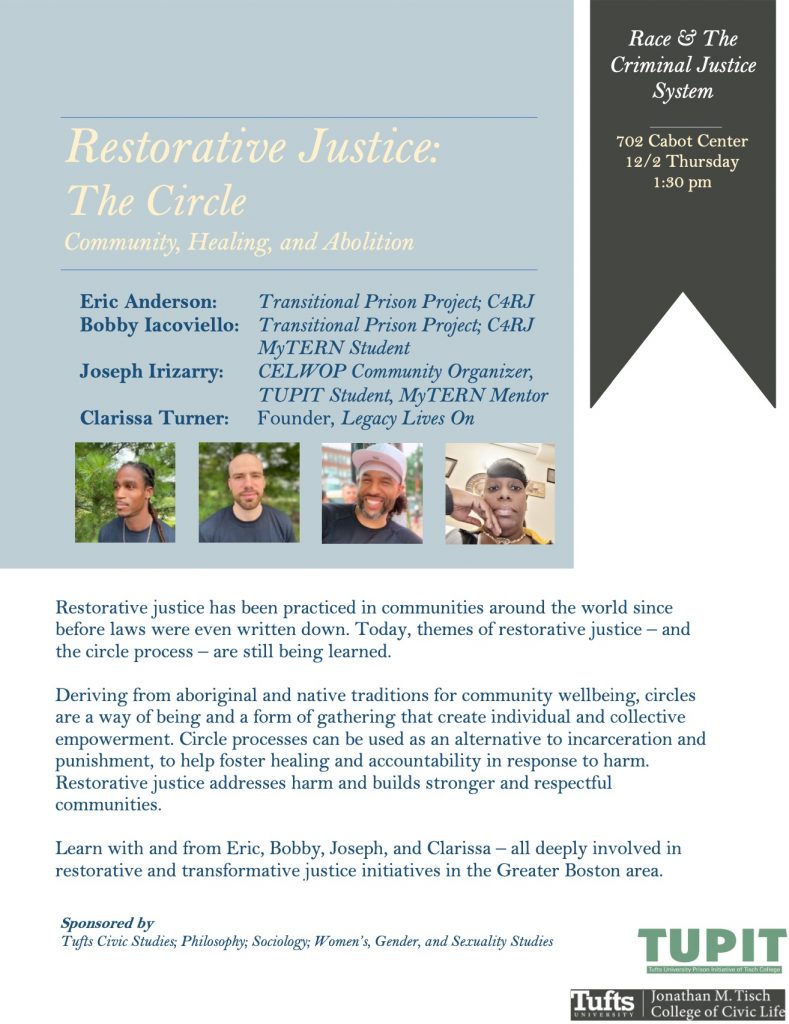 Restorative Justice: The Circle
Thursday, December 2nd, 2021 at 1:30 p.m. in 702 Cabot Center
Restorative justice has been practiced in communities around the world since before laws were even written down. Today, themes of restorative justice – and the circle process – are still being learned.
Deriving from aboriginal and native traditions for community wellbeing, circles are a way of being and a form of gathering that create individual and collective empowerment. Circle processes can be used as an alternative to incarceration and punishment, to help foster healing and accountability in response to harm. Restorative justice addresses harm and builds stronger and respectful communities.
Learn with and from Eric, Bobby, Joseph, and Clarissa – all deeply involved in restorative and transformative justice initiatives in the Greater Boston area.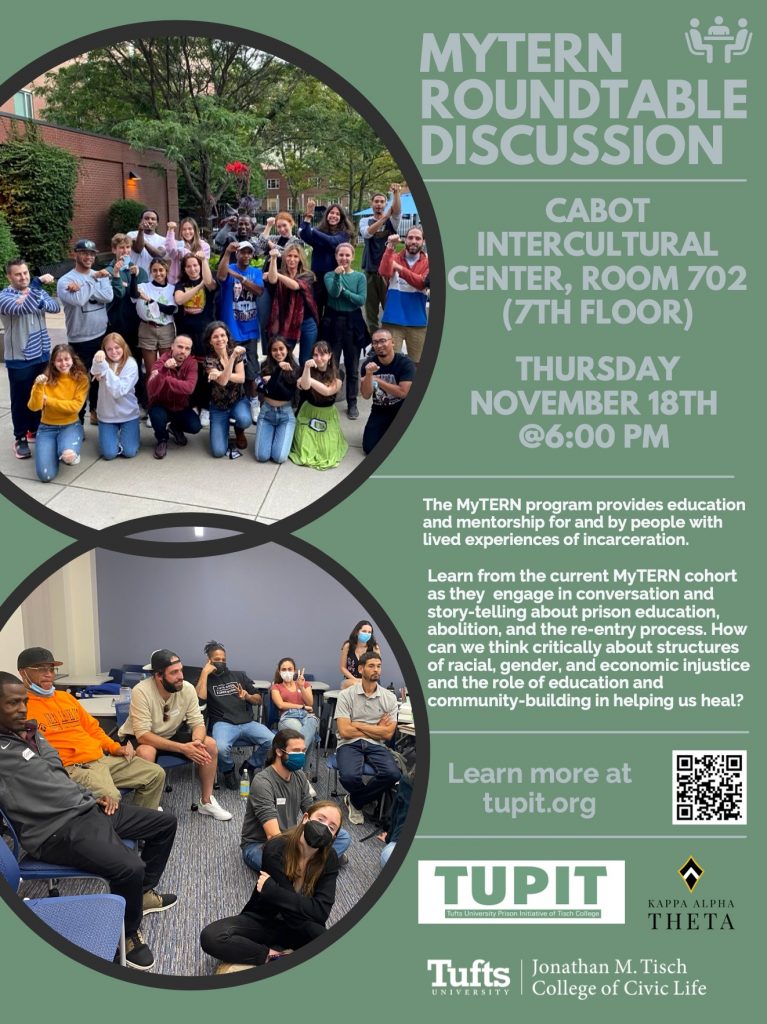 MyTERN Roundtable Discussion
Thursday, November 18th, 2021 at 6:00 p.m. in Cabot Intercultural Center, Room 702 (7th Floor)
The MyTERN program provides education and mentorship for and by people with lived experiences of incarceration.
Learn from the current MyTERN cohort as they engage in conversation and story-telling about prison education, abolition, and the re-entry process. How can we think critically about structures of racial, gender, and economic injustice and the role of education and community-building in helping us heal?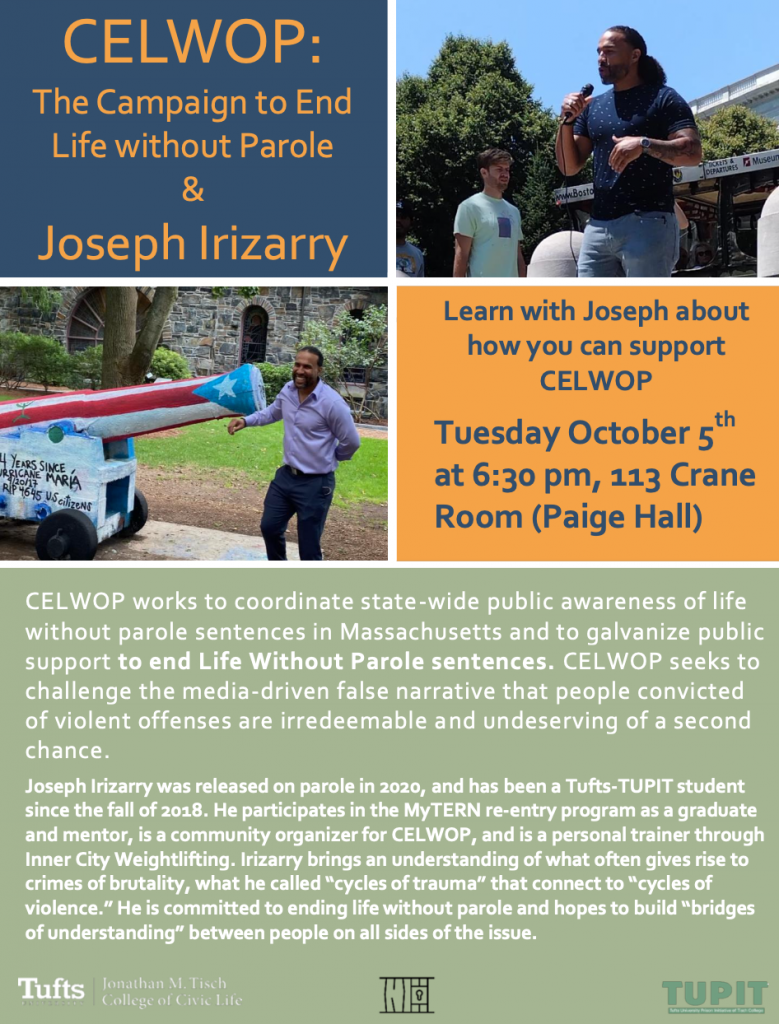 CELWOP: The Campaign to End Life Without Parole & Joseph Irizarry
Tuesday, October 5th, 2021 at 6:30 p.m. in 113 Crane Room (Paige Hall)
CELWOP works to coordinate state-wide public awareness of life without parole sentences in Massachusetts and to galvanize public support to end Life Without Parole sentences. CELWOP seeks to challenge the media-driven false narrative that people convicted of violent offenses are irredeemable and undeserving of a second chance. Learn with Joseph about how you can support CELWOP.
Joseph Irizarry was released on parole in 2020, and has been a Tufts-TUPIT student since the fall of 2018. He participates in the MyTERN re-entry program as a graduate and mentor, is a community organizer for CELWOP, and is a personal trainer through Inner City Weightlifting. Irizarry brings an understanding of what often gives rise to crimes of brutality, what he called "cycles of trauma" that connect to "cycles of violence." He is committed to ending life without parole and hopes to build "bridges of understanding" between people on all sides of the issue.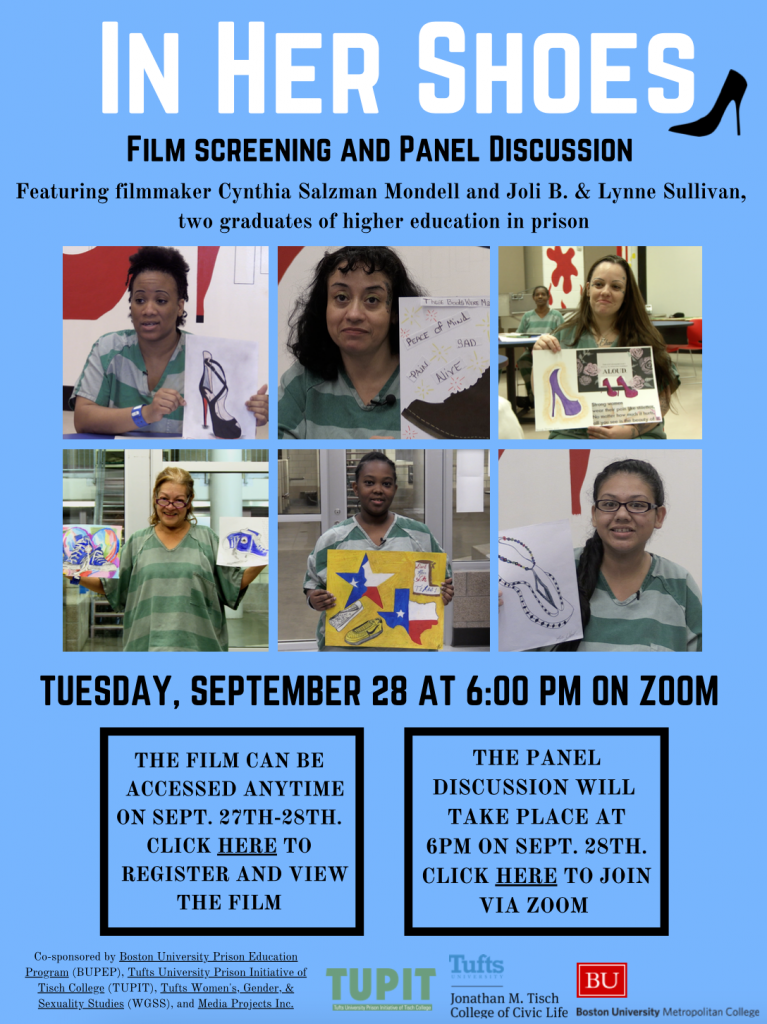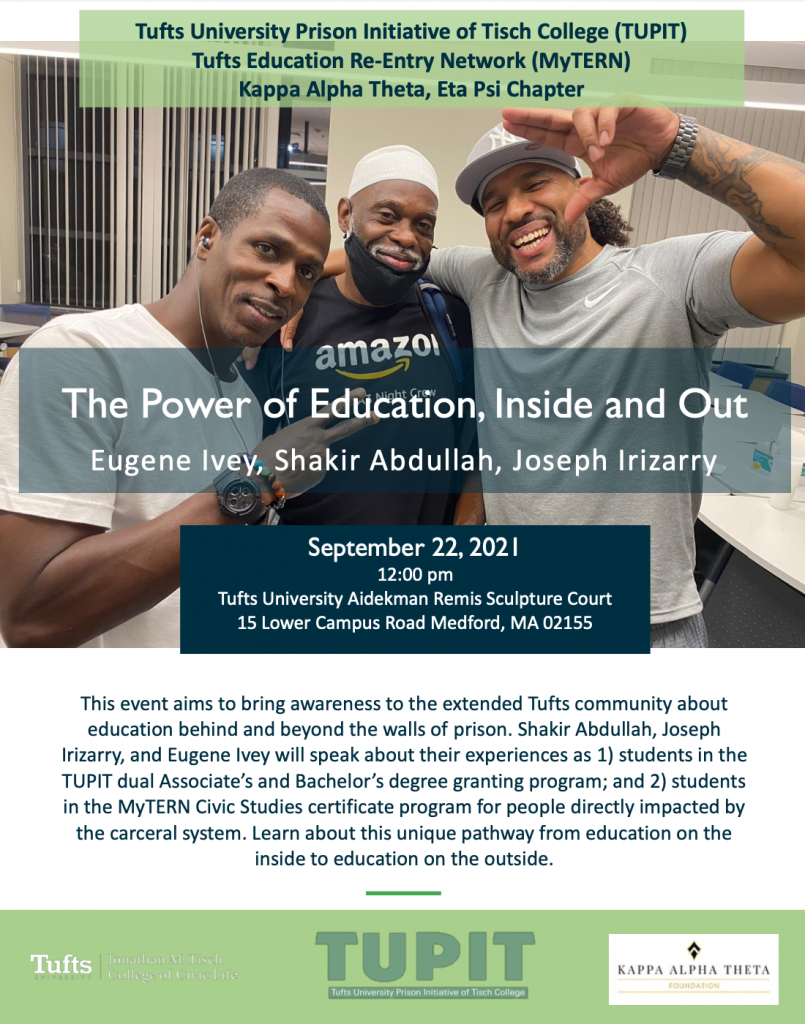 The Power of Education, Inside and Out
Wednesday, September 22nd, 2021 at 12:00 p.m. in the Tufts University Aidekman Remis Sculpture Court
This event aims to bring awareness to the extended Tufts community about education behind and beyond the walls of prison. Shakir Abdullah, Joseph Irizarry, and Eugene Ivey will speak about their experiences as 1) students in the TUPIT dual Associate's and Bachelor's degree granting program; and 2) students in the MyTERN Civic Studies certificate program for people directly impacted by the carceral system. Learn about this unique pathway from education on the inside to education on the outside.
Featuring MyTERN graduates Shakir Abdullah and Joseph Irizarry and current MyTERN student Eugene Ivey