Mighty Fletcher Fútbol last night confronted Harvard Business School's juggernaut of a team, playing to a 1-1 tie before Harvard switched the lights off on them.  LLM student Sevan delivered the crucial goal.  Back at Fletcher, team captain Sebastián updated the community:  "On behalf of the Fútbol team, we want to thank all the fans (100+) who cheered for us tonight.  It was awesome to see you all at the soccer field."  To the team's supporters, Elia vows, "Our victory (to come at a later date) will be for you."
This is the semester's last week of classes.  Exams loom on the immediate horizon.  But that didn't stop the Fútbol enthusiasts from working tirelessly to draw their supportive crowd.  There were posters: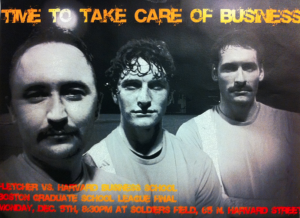 (Note the Movember moustaches.  These players excel at more than one game.)
And emails exhorting their classmates to come out and cheer for the team:
We promise you a very exciting game.  We play with the passion of the Colombians, the finesse of the French, the flair of the Italians, the speed of the Afghans, the sacrifice of the U.S. Marines, and so much more.
and, with no shortage of exclamation points:
FLETCHER COMMUNITY: COME AND SUPPORT YOUR BOYS AND GIRLS ON MONDAY!
Our football team, Fletcher Fútbol, have made history!!!  After a grueling season, they made the LEAGUE FINAL!!!!  Standing between them and the championship trophy: Harvard Business School.  Fletcher has never before brought the trophy home!  Therefore, it's up to us to have a really good turn-out and get behind our heroic boys and girls!!!  Papers and exams are not due for another week. The team have worked their backsides off to get to the final, and it's a fantastic achievement.  Now, with the full support of the School behind them, we're going to act as the "12th man" and help them bring the trophy home!
And, finally, more posters: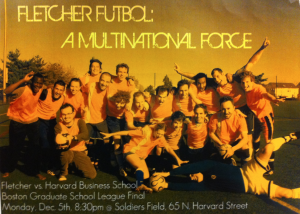 The date for the tie-breaker game is still TBD.  Can our valiant players bring home the trophy?  Stay tuned, dear blog reader.  Win or lose, with the team's endless enthusiasm and supportive fan base, how could I not love Fletcher Fútbol?