The Hall of Flags is Fletcher's town square.  Everyone passes through here at some point in the day.  Yesterday, to capture a little of the atmosphere, Jeff (my partner in on-location blogging) and I parked ourselves at a table (which we reserved, as if this were a restaurant), equipped with my laptop and a basic camera, and waited to see who came by.  We made a slight miscalculation, having chosen a time when traffic was light, but the upside was that we had a chance to chat with everyone who visited the table.
When we set up camp, two students, Vanessa and Jon, were already in place at their own (better decorated) table.  They're raising funds for their participation in the Tufts Marathon Challenge.  Jon is from New Orleans, so (in keeping with the season), they put out some plastic babies and called it King Cake.  The cake, fortunately, looked better than the handwritten sign.
After chatting with Vanessa and Jon, we looked to see who else was around.  Jamie, one of our volunteer interviewers from last fall, greets blog readers from the balcony.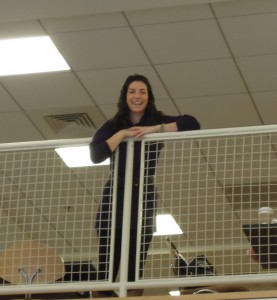 Mollie (also an Admissions volunteer), Adam, and Khanh from Fletcher Students in Security were planning a reception that will take place during the DC Career Trip in a few weeks.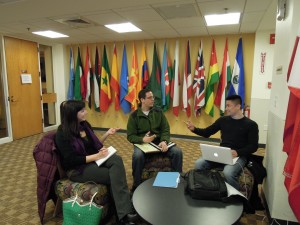 Bilal stopped by on his way to this week's event in the "Denial and Deception" lunch/lecture series (organized by the Security Studies program), on practices and best practices throughout the intelligence community.  He insisted that I should be in the photo.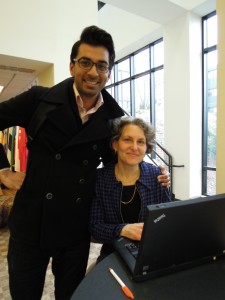 Nick walked through while doing his work.  We always enjoy chatting with him when he helps us out by keeping the office in order.  He has also brought new life to one of the Admissions Office plants.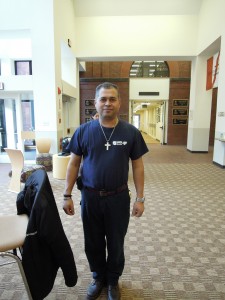 Shinhee (yet another Admissions volunteer) stopped by on her way from Prof. Babbitt's office to an accounting class.  Jeff told Shinhee (a musician) she should have brought her violin so that she could play for us.  Next time!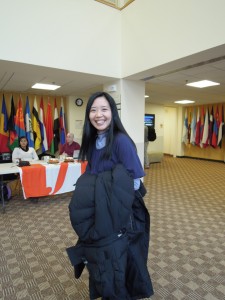 My Fletcher Futbol friend Sebastian picked up a piece of cake.  He was on his way to meet up with a student who had worked at an NGO he's interested in.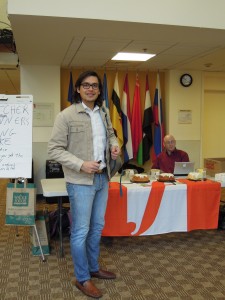 Summer is also on her way to the "Denial and Deception" lunch/lecture.  She's looking spiffy for the special event.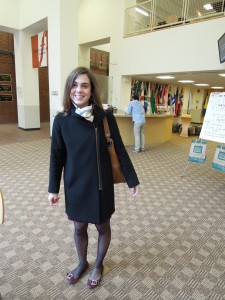 Dan, Fletcher's IT guru, was talking IT with Kevin, the face of the Hall.  (Kevin would have been able to tell us when the HoF is at its busiest.  Mental note to check in with him before we plan another on-location blog.)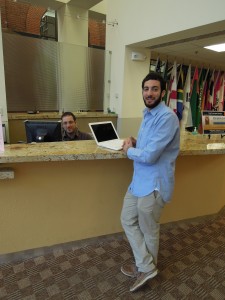 Matt, also on the way to the lunch/lecture, stopped by.  (Gonna be a busy luncheon!)  Matt's a PhD candidate who's working in Oslo for the Norwegian Institute of International Affairs as a visiting research fellow.  He's on campus now to put the finishing touches on his formal dissertation proposal about organized crime and state security in West Africa (while working remotely for the Institute).  Matt moved on to the PhD program from the MALD (like most of our PhD students).  He has clocked many hours in the HoF, generally toting a coffee mug.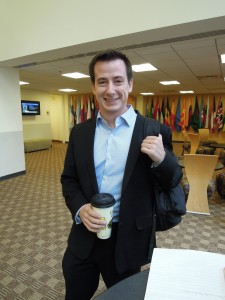 Morgan is on his way to accounting class, carrying the lunch that was lovingly prepared by his wife (complete with special notes).  The word is that Morgan has the BEST lunches (and sometimes dinners) in that little cooler.  Jeff and I are totally jealous!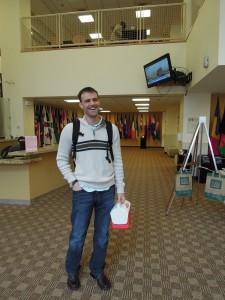 Vanessa and Jon packed up their table.  Why?  The "Denial and Deception" lunch/lecture, of course.  Vanessa says she can't be late.  The lecture runs on military time.
Tomo came out of his microfinance class where there were two guests from Spain.  He's off to have lunch with them.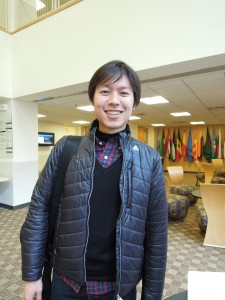 Geoffrey was here to kick off the marketing of the Tufts Energy Conference — mailing cards to speakers from past years.  The conference is coming up in April.
Vickie, Carolyn, Rachael, Naomi, Winnie, and Shuvam met up at the elevator.  (They're all in the photo, but not necessarily easy to find.)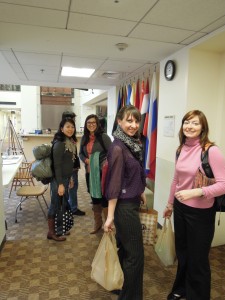 Lily just came out of her class, and is chatting with Emily while waiting for others.  She's going to join Tomo for lunch with the microfinanciers from Spain.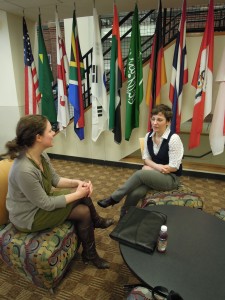 Food for the "Denial and Deception" lunch!  (Delivered with a smile by Dan from Dave's Fresh Pasta, a Davis Square eatery that is a favorite source of food around here.)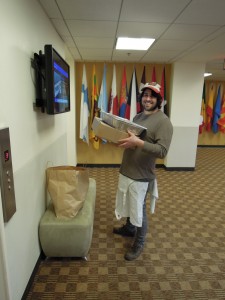 Brand new Januarian Alessandra and soon-to-graduate second-year Charlie, were also coming from the microfinance class.  This time I think to ask which class it is.  The answer:  Microfinance and Inclusive Commerce with Prof. Kim Wilson.  Then, along comes Prof. Wilson.  Jeff convinces her to join the photo.  (Love Prof. Wilson's red shoes!)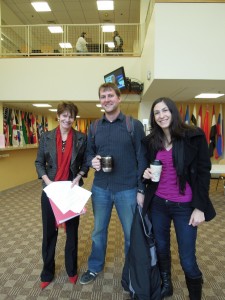 Kristen avoids the paparazzi on her way to the Tufts Educational Day Care Center for an appointment.  (Fingers crossed that there will be space for little Lucia in the day care in September!)  More relevant to Fletcher, Kristen was coming out of a discussion of the launch of a new initiative to offer conference calls with recent alums, during which current students can ask about job search tactics in particular industries or locations.  The first conference call will be with a 2011 MIB alum and former Admissions intern, who will describe the process that landed him with a job in Brazil.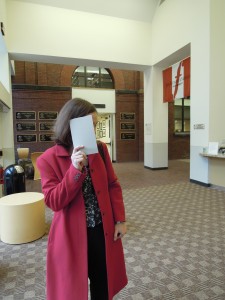 Once we let Kristen go, we noticed a crowd of people waiting for the elevator.  More people from the microfinance class, including the Spanish visitors.  They were very gracious in allowing Jeff to snap a couple of photos, and we learned they're from ACAF in Barcelona.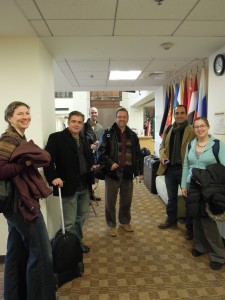 Hanging out in the Hall of Flags was a fun way to connect with people we don't see as often as we'd like, not to mention a real treat during this busy time of year for Admissions.  After our allotted 45 minutes, Jeff and I packed up and went back to the office.  We're going to do this again, though.  Next time, we'll try for live blogging.  Stay tuned!