My daughter, Kayla, received notification a week or so ago that she was admitted to one of the universities to which she had applied.  It was completely old-school — the mail slot opened and a big envelope plunked through.  She wasn't expecting anything that day, and it was a nice fat surprise.  She's going to college!
Those of you admitted this year know you didn't need to wait for the fat envelope, and in fact, just about everything can be found online or will be sent by email.  But we think it's still nice to have a packet to read on the subway to work, or to refer to as you do your grad school research.  And if you're in a far-flung location, the packet may simply be easier to access than a computer.  Like it was for Admissions student intern, Hillary, who took this photo last year when she received her packet in Pobe, Benin.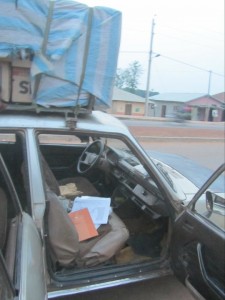 When we were packing up the folders last week, we noticed a large number of very local addresses, and we joked that we could drive all around town, hand delivering packets.  In fact, there's someone on my street.  (Look for me at the blue house, Martin Street admitted student!)  But no matter how local, we let the fat envelopes find their own way through the mail to the right address.