There's a lot going on in Admissions this week.  Most of our admitted students need to make their enrollment decisions by tomorrow, April 20, and there has been a pretty steady stream of last-minute questions.  (How do I put together my dual degree?…Can you send me my GAMS password?…What's your suggestion for housing?…)  By Monday, we'll know what about 80% of the entering class will look like.  (I'm making that number up — but I think it's about right.)
Meanwhile, continuing students are submitting their applications for scholarship renewal.  They also have many last-minute questions.  The forms are due this afternoon, so I know the office will be hoppin' at about 4:00.
Which leaves me depending on others to create interesting blog content for me.  And combing through my inbox, I found something.  Students have compiled a list of thesis topics, along with faculty advisor, keywords, and the students' Fields of Study.  The list contains only a portion of the theses that will be submitted this spring, but I think it provides a nice snapshot of the broad range of topics and formats.
Here's a sample of the list: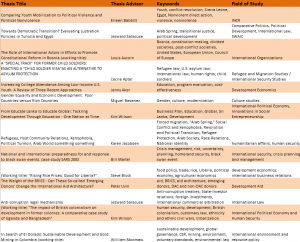 For the full list, click here.
If you're interested in learning more about the professors who advised a student on a specific topic, you can find them all on our website.