As someone who can fall victim to distractions, I've always valued the slightly-out-of-the-center-of-things location of Tufts.  Students can focus on student life while on campus.  Or they can wander a short distance from campus to surrounding neighborhoods with food, services, and fun.  A short distance further off, they're in the broader academic community of Cambridge.  Or, with little fuss, they can take advantage of all that Boston has to offer.  For starters, from Fletcher, it's about a 15-minute walk to the subway (which we all call "the T").  Bus lines broaden the territory covered by mass transit (and make it easy for students to find housing with easy access to campus).  Here's what our options look like: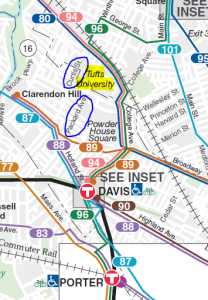 Buses 80, 94, and 96 actually come onto the campus, and the 87, 88 have stops five minutes from Fletcher.   (Curtis Street and Packard Avenue bracket Fletcher on the Tufts campus.  You can find the full map here.)  So transportation links are pretty easy.
But what if all these multicolored noodles of bus and subway lines make it seem that traveling to Boston is a major expedition?  Well, if you have a little time, you can always choose to walk or bike.  Here's one suggested route, for a day when you want to ice skate at the Boston Common (or, in summer, join the crowd of children splashing in the spray pool):
Sure, it's five miles, but five miles seems like a nice balance — a quiet campus that's only a long walk from everything.