My weekend in Fletcher's neighborhood
Summer blogging is easy when I convince myself that writing about my weekend gives incoming or prospective students a glimpse of what's happening around town.  Although Paul and I have our roots in larger cities (London and New York), we have lived in the Boston area for a long time, and I love the range of activities that are so easily accessible.  With that, I will now proceed to tell you about my busy weekend.
I was off from work on Thursday and Friday, and I'll start my weekend rundown with Thursday.  After dropping my bicycle off to be tuned and running a few more errands, I headed over to Yoshi's (Japanese food at moderate prices, right near campus) for lunch.  There, I met Helen Anderson from the Office of Career Services and another old Fletcher friend for a reunion.  The three of us hadn't managed to get together in a long time, and we only barely managed to eat while maintaining a lively conversation covering all relevant topics.
After lunch, I went over to Hanscom Air Force Base to attend a ceremony honoring a friend and her work.  She has been a civilian with the Air Force for many years, but now she's off to new adventures.  I have been near and around the base before, but never on it — a new adventure for me.
Thursday evening found us at the Somerville Theater in Davis Square for a concert (music and a dose of politics) by Billy Bragg.  Davis was hopping on a warm summer night!
Friday was taken over by domestic chores, but after dinner Paul and I met up with Kristen and her family (husband Sam and daughter Lucia) at the annual Cambridge Dance Party.  Little Lucia has some really special moves! But she also has an early bedtime, so off they went and Paul and I circled around, meeting up with a few friends.  We stayed long enough to see City Hall covered in lights.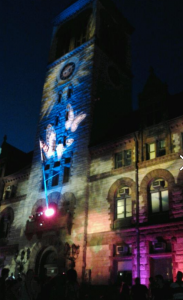 On Saturday afternoon, we hopped on the T and walked along the Boston waterfront, viewing the tall ships that were in town for the Harborfest.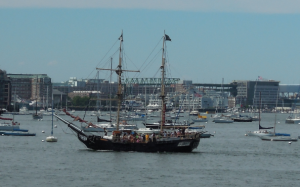 It's a particularly big event this year, including both Navy Week and the tall ships with OpSail Boston, and coinciding with the bicentennial of the War of 1812.  I particularly liked this little boat.  If he eats well, he can grow up into a full-sized tugboat: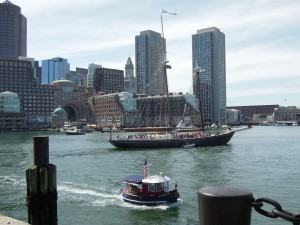 Along the way, we were distracted by the Institute of Contemporary Art and dashed in to see an exhibit of glassworks by Josiah McElheny.  The ICA is cantilevered over the harbor.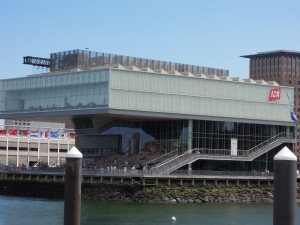 You see those people through the front window of the building?  Here's their view: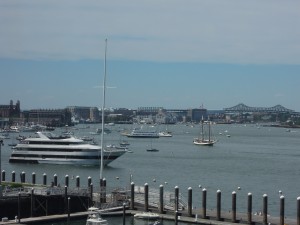 Dinner was in Brighton (a neighborhood of Boston) with my cousin and my cousin's cousins, including a two-week old baby whose mother is a double Jumbo (undergrad and Friedman).
Sunday morning, bright and early, Paul and I dashed up to our favorite beach in Revere.  I am Revere's biggest fan — I love the ethnic mix on the beach whenever we're there (primarily Russian spoken in the morning, Portuguese in the afternoon).  We grabbed breakfast at a local restaurant where I can always count on seeing a big group of long-time customers in the midst of lively conversation.
After lunch, Paul took Josh out to shop for appropriate clothing for his new workplace, and I took Kayla out to find the extra-long twin sheets and other things she'll need for her college dormitory.  Back home in time to see Spain top Italy in the Euro 2012 Football Championship.  A busy weekend-plus, which supplied me with a blog post, and which I hope gives you a sense of how much can be done within a short distance of Fletcher.