Well, I didn't get it together this week to report on my weekend.  But, with service to my readership in mind, I'll just mention the restaurant we went to.  You may be looking for an interesting meal this weekend, and I wouldn't want you to go hungry (or uninspired).
Much as I love going to the beach, the visit is undeniably enhanced by a good dinner.  So last Sunday, when it was quite hot, we went to Revere for a little sea/sun/sand, and some Cambodian food.  First, we checked out this year's sand sculptures (always creative and odd at the same time).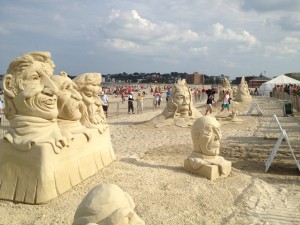 And then we headed off to Thmor Da, our favorite Revere dinner venue.  Not just us — the Boston Globe likes it, too!  (Personally, I could eat the papaya salad every day.)  If you're making a plan with friends tonight, consider taking a ride on the Blue Line to Thmor Da.  Or, if you're not in town, file this away in your mental restaurant directory, and make the trip when you're at Fletcher.