1. Graduate; 2. Get married
It would be entirely frivolous for Admissions staff members to emphasize their role as match-makers.  First, making matches is not an appropriate use of our time.  Second, once we admit students, we can't control who meets whom.
And yet…many students meet their spouses while at Fletcher, and I have decided to take credit for the happiness of two 2012 grads.  I first met Ho-Ming in 2007, when she visited for an interview before she applied to Fletcher and, later, deferred her enrollment.  Then, in the fall of 2009, I interviewed Aaron.  Probably, I didn't have wedded bliss in mind as I spoke to them as applicants.  Probably.  But just maybe, I knew, in the depths of my subconscious, that here were two prospective students who were meant for each other.
I think it's fair to say that Ho-Ming and Aaron left campus after graduation in May with a lot of balls in the air, creating some uncertainty in their lives, but one thing was clear — they were going to drive cross-country before embarking on the next phase.  So they bought an old van (Volkswagon Vanagon to be precise), adopted a puppy (Bean), and headed west.  Along the way, they eloped!
Here they are, with Bean and the van: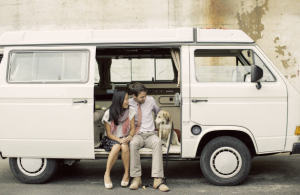 And here they are, in Chicago, looking all married: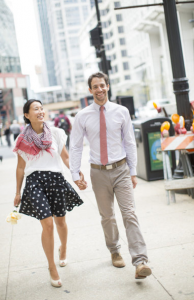 And now they're in Indonesia, where Aaron has a job and Ho-Ming (last I heard) seemed well on her way to landing one of her own.
After I emailed Ho-Ming to ask if I could write about her and Aaron in the blog, she gave me the o.k. and noted that she had recently seen a photo of Fletcher alumni in Washington, DC and that there were four Fletcher couples from her year alone.  "Definitely something about Fletcher," she wrote.  But most of those couples, I'll guess, didn't elope and then travel halfway around the world.
If, like me, you have a soft spot for happy endings, you can read more about the elopement here.  And I should note that I borrowed the photos from that website, which credits them to "I Luv Photo."