Last week, Kristen and I went out to the Hall of Flags for an hour to chat with students and capture some of their thoughts for the blog.  I was the typist, and Kristen was the wingwoman/interviewer/photographer.  We asked as many people as we could to tell us something that they learned at Fletcher, either inside or outside the classroom.  Our first visitor was Matt, a PhD candidate, who kicked off our conversations with a way-outside-the-classroom response.
Matt:  I've learned that it actually is possible to learn a whole Bollywood dance in only a week.  In order to get a date.
The remaining responses trended somewhat more academic.
Felix:  One of the biggest things I've learned here is how to squeeze the world into two pages.  Presenting international terrorism to your foreign minister — 90 seconds.  NATO-Russia relations — two pages.  Dealing with complex information in a pragmatic way, a solution-oriented way.
We chatted together with an MIB duo of David and Qasim.
David:  So much of what I'm learning is from my fellow students, especially in settings where we do teamwork, which is very conducive to new learning.  It's intense and the learning curve is very steep, but I've learned a tremendous amount.
Qasim:  I've learned about the experiences of many different people I've met – how to make their food, and the different ways they live.  And the second thing I've learned is how to manage my time and prioritize.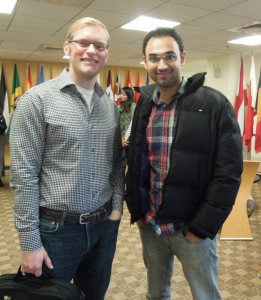 Next we chatted with a sales team for the Africana Club, promoting the "Sounds of the Continent" Africana Night event.
Jenn:  Prof. Glennon posed this great question in his class, asking if international law is really law, and it helped me to use his model when thinking about it.  The example is that you're driving through the woods and you want to throw your trash out the window.  But do you throw your trash out the window?  If not, why?  You won't get caught.  What is it that makes you feel it's wrong?  What is it that makes you feel a responsibility to not do these things?  Is there a rule about it?  Or is it that you want there to be a rule about it?  Is it a bad thing that there's not a rule?  Is it something that we still obey if it's not written down?
Blaen:  I came to Fletcher to get exposed to a different field, to law, so I've learned how lawyers think, and also about policy making.  It's all about the consequences — it's not about the profits or values, it's all about the consequences.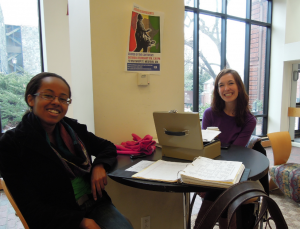 We went back to our table to catch some more people as they crossed the Hall of Flags.
Trisha:  I've learned the importance of interdisciplinary connections and how you can see different sides of the same coin when you take different classes at Fletcher.  And…free pizza is your best friend.  Hang around the Hall of Flags for free food.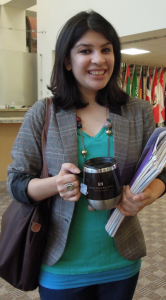 Patrick:  I've learned not only from the professors but also from my fellow students and from visiting guests who come to give talks.  I find that these talks help you to think about things in a broader context.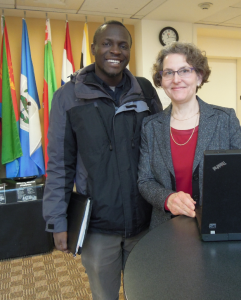 I agreed to be in the photo with Patrick, because I've known him longer than any other Fletcher student!  (Also because Kristen insisted.)

Maddie:  I've learned that I am now interested in things that I never imagined I would be interested in, even within the broader field that I was pursuing.  Before coming to Fletcher, I was intending to study strategic management and international consultancy, but after taking Prof. Jacque's international finance course, I developed a new interest in finance and decided to switch my focus.  Overall, Fletcher opened my eyes to things I never knew I was interested in.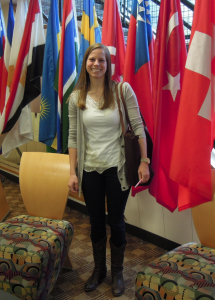 Hannah:  I do feel that Fletcher has given me the opportunity to make a lot of different connections that I wouldn't have if I had stayed in the career track that I was in before.  Like doing the MasterCard project and seeing the inside of a big corporation and the role it can plan in international development.  A company like that sees financial inclusion as a business opportunity.
This also opened up a lot of career ideas for me.  I'm thinking about my job search in a more organic way, thinking about what I want to do, rather than sending off a whole bunch of job applications with less thought.
Kristen interviewed Hannah for admission "way back when," in DC.  And Hannah said Kristen was a big part of the reason why she ended up here.
Margot:  I came from the development world, so I had that focus when I started at Fletcher.  I'm trying to reorient on the link between security and development in Africa, and something that I've learned from my classes such as Role of Force, or interacting with the Fletcher military fellows (and learning how thoughtful they are), and Fletcher events is the theoretical and practical security paradigms.  I already transitioned from a human rights focus in college to a development focus through my work.  But now I'm adding security to that mix.  I feel I had been a little closed off where I was, but now I have the ability to open up to different domains.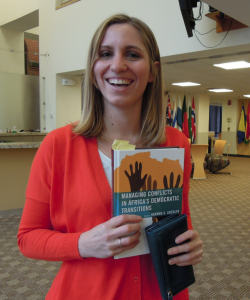 And we'll give the final word to Prof. Gallagher, a MALD graduate herself.  She was rushing past us, on her way to meet a candidate for an open faculty position, but Kristen made good use of the minute while Prof. Gallagher waited for the elevator.  What has she learned at Fletcher? 
It might be a little glib, but what haven't I learned!