Scott and two wheels heading east from Oregon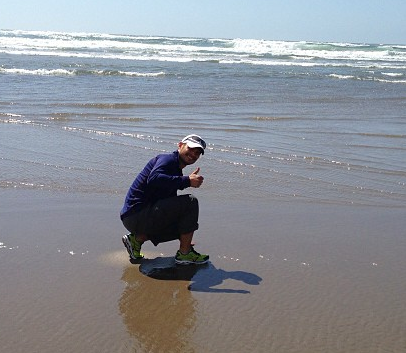 Last week I received an email from student blogger Scott, who wrote about the cross-country trip from Oregon to New York, a distance of more than 3,000 miles, that he is undertaking accompanied by a friend.  By the time I received the email, Scott had crossed through Oregon and into Idaho.  (The photo shows him at his first stop, the Pacific Ocean coast of Oregon.)  His message detailed the motivation for the trip:
On May 11th, 2006 tragedy struck one of my best friends and his family.  Greg LiCalzi was my roommate freshman year at Union College, and although I was probably not the easiest person to live with at the time, we became great friends.  Greg's twin brother, Michael, was serving our country in the Marines when he died in a tragic tank accident in Iraq.
Two years later, with the support of his family, Greg founded the Ace in the Hole Foundation to remember and honor his brother's sacrifice.  The Foundation provides financial aid and material assistance to charitable organizations and causes.  The Foundation's support is administered directly to deserving recipients or through contributions to charitable organizations with which the Foundation has working partnerships.  Through numerous events, fundraisers and corporate partnerships, Ace in the Hole has raised and donated over $300,000.
I have been unable to participate in many of the events for Ace in the Hole Foundation.  Because of my previous job I was always out of the country or on assignment.  I have been looking for a way to contribute with more than just a donation, and this summer I will have that chance.
Scott is using the trip to raise awareness and funds for the Ace in the Hole Foundation.  His goal is to raise $12,000 by the end of his ride.
You can read more about the trip directly from Scott.  He's chronicling it through various media, most notably a Tumblr page and via Twitter.  I'll try to provide occasional updates on his progress throughout the coming weeks, or you can check out his Tumblr and spread the word about his trek for a cause.