Congratulations to Manjula and fellow Fletcher alums!
I first met Manjula Dissanayake when he had nearly completed his Fletcher MALD, though I had heard others talk about him before that.  Throughout 2012-2013, I made up for lost time by getting to know him as we featured his first post-Fletcher year and his organization, Educate Lanka, on the Admissions Blog.  Today, I couldn't be happier to share the news that Manjula has been recognized for his work by Diplomatic Courier and Young Professionals in Foreign Policy as an "Influencer" in the publication's 2013 list of Top "99 under 33" foreign policy leaders.  It has been a great pleasure to follow Manjula's post-Fletcher progress and to be inspired by his dedication to Educate Lanka and the children it supports.  Congratulations, Manjula!
As if that weren't enough good news for a day, it turns out that Manjula has plenty of company from Fletcher alumni among this year's 99.  Here's the complete list, with the category in which they were recognized: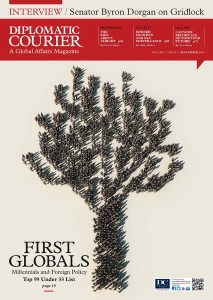 Elliott L. Ackerman '03, Chief Operating Officer, Americans Elect (Risk-Taker)
Caroline Andresen '10, Evaluation & Reporting Coordinator, U.S. Agency for International Development, Office of U.S. Foreign Disaster Assistance (Practitioner)
Erin Clancy '09, Foreign Service Officer, U.S. Department of State (Innovator)
Sophia L.R. Dawkins '11, Program Officer, Conflict Dynamics International (Shaper)
Jan Havránek '09, Deputy Director, Ministry of Defense of the Czech Republic (Catalyst)
Sherif Mansour '08, Middle East and North Africa Coordinator, Committee to Protect Journalists (Risk-Taker)
Toru Mino '10, Head of Product, Kopo Kopo (Catalyst)
Dalia Ziada '11, Executive Director, Ibn Khaldun Center for Development Studies (Influencer)

And the Fletcher grads are joined by two alumni of the Tufts undergraduate program:
Eileen Guo, Founder and Partner, Impassion Media and Impassion Afghanistan (Catalyst)
Meena Sharma, Associate, International Practice Group, Covington & Burling LLP (Catalyst)
Having so many members of our community recognized for their work, well, it's just a happy day around here!
You can read more on the Diplomatic Courier site, and on the Fletcher website.  You can also see what people are saying on twitter: #99Under33.  But here's how Diplomatic Courier describes this recognition program:
The 99 Under 33 recognizes the distinctive impact each of the honorees has on his or her community today and their promise of potential as a leader in the future.  This list uniquely offers insight into the creativity, determination, and passion of the diverse young people who are already tackling the world's critical global challenges.  By design, this list is broad and diverse, which reflects the belief that foreign policy in the 21st century is made by leaders from all sectors.
"Since the inception of this list in 2011, Tufts University leads in alumni being recognized as top leaders.  Evidenced by the impressive people named to the 99 Under 33, Tufts University goes above and beyond typical academic expectations and truly prepares its graduates to tackle tough foreign policy problems.  These leaders are not waiting for tomorrow — they are leading now," highlights Ana C. Rold, Editor-in-Chief, Diplomatic Courier.
Congratulations to all the Fletcher/Tufts alumni who have received this special recognition in their field!