Diane's path from south (Australia) to north (Fletcher)
Allow me to introduce Diane, the next of our new student bloggers, who joins Liam, Scott, Roxanne, and Mirza on the team.  Today Diane will tell us how she made the decision to pursue graduate studies at Fletcher, where her Fields of Study are Development Economics and Humanitarian Affairs.

I thought I would introduce myself by telling you about my experiences prior to Fletcher, as well as how I ended up here, at The Fletcher School of Law and Diplomacy.
After graduating with my undergraduate degree, I worked for a time in the East Asia unit of the Oxfam Australia Head Office in Melbourne.  In 2012 I left Oxfam and moved to New York to intern in the policy section of the United Nations Office for the Coordination of Humanitarian Affairs (OCHA), working on food security research and resilience policy.  I had previously interned with the United Nations World Food Programme in Nepal, during the 2008 food crisis, and was keen to gain more varied experience.
It was at my first job that I realized the importance of technical, management, and leadership skills in the workplace.  While I had spent my undergraduate degree learning about the theory of the development field, once in the workplace I recognized the difference between great managers and leaders and mediocre ones, and realized that if I wanted a long career where I would be able to make an impact and add value to the organization I work for, I needed to go back to school and learn these skills.  I started researching the type of programs that would satisfy both my interests and my aims for further study, and began to look out of Australia for this.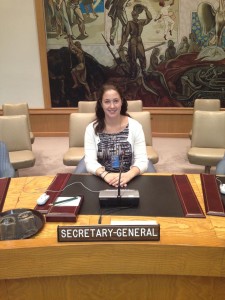 In truth, my journey to Fletcher began just over a year ago.  While I was based in New York with the UN, I took the opportunity to explore different schools and programs in the U.S.  A colleague at OCHA noticed the GRE books on my desk and offered to discuss various professional international relations programs with me.  Being a Fletcher graduate, the colleague encouraged me to look at the Fletcher School.  I remember looking online and the excitement inspired by the course offerings, which would allow me to develop management and leadership skills while I pursued my interest in humanitarian affairs and food security.  I was soon on my way from New York to visit Fletcher for an evaluative interview.  It's fair to say that my visit and interview went very well, as I find myself now a member of the 2015 class.
In the year following that interview, I returned to Melbourne to work with a small not-for-profit, running a women's group and homework club for Sudanese refugees.  I also spent time completing the necessary requirements for graduate school applications, and preparing for my arrival (once I was accepted into The Fletcher School).  In late August, which is towards the end of the Australian winter, I spent 28 hours flying through four cities to finally arrive in Boston and begin my new and exciting journey as a MALD student at The Fletcher School.
After Fletcher (a topic that I feel we spend a lot of time discussing here — mainly due to the programs offered by the Office of Career Services), I plan on utilizing all the skills and networks I will have gained at Fletcher to find a research or policy role in the Food Security field.  My ultimate goal is to work for the United Nations in the field of Humanitarian Affairs. Fletcher's amazing staff and professors, and the accomplishments of the alumni, have put me at ease at my ability to achieve my goals.