I love Fletcher couples!  So I was thrilled to hear about a wedding of two 2012 graduates with a special twist.  Megan and Sebastián didn't meet at Fletcher — they knew each other before, and applied to grad school hoping they would end up in the same place.  I conducted Megan's evaluative interview and, as I told her just before her graduation, it's one that stands out in my mind, if only for the wonderful thank-you note she sent, complete with a map of the Dominican Republic (where she was working) and Haiti.
It wasn't until I featured Fletcher Fútbol in the blog that I connected with Sebastián, but I very much enjoyed my interactions with him about a fun activity that had captured the attention of the entire community.
Naturally, when I heard about the wedding, I reached out to Sebastián, and asked for photos.  He graciously sent several along.  Don't they look happy?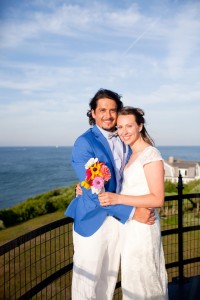 Sebastián called the wedding their "Hippy Celebration of Love," and it took place in August at a lighthouse, in Oak Bluffs, MA.
But here's the best part.  The wedding was officiated over by Prof. John Hammock, who Sebastián said had "been a mentor for Megan before Fletcher, and I had the pleasure to take his class and receive his advice while in grad school."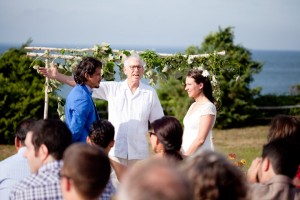 I don't know if this is the first time a member of the faculty has conducted a wedding for two alumni, but I know it's the first time I've ever heard about it.  One of the best ever Fletcher weddings!