Scott to world — SEEKING: Job Summer 2014
Returning to the second-year student bloggers, we pick up Scott's story as he considers the post-Fletcher future that awaits him after graduation next May.  As you'll read, to Scott's surprise, the learning and exposure he gained at Fletcher have caused him to reconsider his planned career path.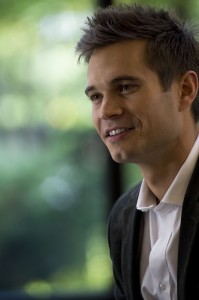 It's interesting being a graduate student (and the ripe age of 32) and confused about the type of work I want to do after Fletcher.  I came in with a very set plan: to use the Master of International Business (MIB) program to transition from the global health sector to the field of international economic development, by filling gaps resulting from my lack of work in the private sector.  I was focused on international organizations, such as the World Bank, or consulting firms that would value my non-profit work and mindset but would also (thanks to the MIB program) be confident in my abilities to understand financial markets.
Fletcher offered me the chance to meet and listen to many individuals who worked at the organizations I had originally targeted.  Unfortunately, around February of last year, after multiple career panels, information sessions, and my own research, I started to question whether this career track would be the right fit for me.  At the same time, I was enjoying all my business courses and dissecting cases — especially within the areas of strategy and business development.
Coming to this realization in February/March was a problem because I had to completely switch my internship search, and by the time I did, most of the internships I had pinpointed were already filled.  I made the best of this situation by taking a position in May that was similar to my previous work (but was salary based — always a good thing) and then took the remainder of the summer to do something very exciting.  I used the time to cycle across the US — from the west coast of Oregon to New York City — raising funds for the charity run by one of my best friends from college, the Ace in the Hole Foundation.  (If interested in that journey, you can read about it here.)  It was the experience of a lifetime, but it didn't boost my future job search the way a summer internship could have.
Which leads me to where I am in the first semester of my second year at Fletcher.  I have decided to cast a wide net and to try to meet with as many people as possible this fall, to help focus my job search, which should start this winter.  I have learned a lot already, namely that I'd love to focus on technology, health/wellness, and, if possible, to work at a start up or even start a venture of my own.  My current classes — Starting New Ventures, at Fletcher, and Strategy and Technology, at Harvard Business School — definitely have had an influence on my current thinking, but I'm also continuing to speak with individuals outside of that realm.  Making up for lost time last summer, I also have an internship in downtown Boston at a hybrid venture capital and creative agency, which has given me exposure to multiple industries that could interest me.
With these commitments, and a couple more classes, I have found myself busy.  It's a different kind of busy than my first year, when most of my time went into tough, but great, classes.  As a second-year MIB student, I have completed the program's core courses and I have the flexibility to choose classes that allow me explore new avenues.  I'm actually excited for the whole process, even if it will be a challenge.