Margot's first year after Fletcher
More and more Class of 2013 alumni are feeling settled in their new lives, opening (I hope) the door for me to feature more of their stories.  For now, I'm happy to introduce Margot Shorey.  Margot, a two-year veteran of the Admissions Committee, visited the office a month ago, and I asked if I could persuade her to write for the blog.  Happily, I could.  So here's her story.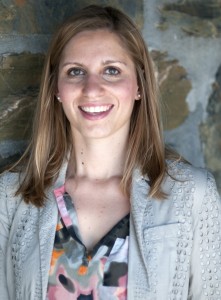 Before Fletcher, I was living and working in Washington, DC — a city I have always been drawn to — with some medium-term stints in Africa.  While at Fletcher, I struggled to figure out if I wanted to take a position in the field, finding a way to implement projects related to my interest in African security, or to return to DC to focus on U.S. policy in Africa.  This decision was not easy for me, as some of the best experiences in my short pre-Fletcher career occurred while working with project teams in Chad and Senegal.  On the other hand, I was sometimes very lonely abroad, missing my friends and community back in DC.  I had learned a lot about the challenges of implementing USAID projects, but wanted a broader perspective to ask why the U.S. was even running such programs in Africa.  Particularly with everything I learned at Fletcher, I sought an active role in shaping U.S. policy in such a critical region.  I really wasn't sure what direction I wanted to go in.
Whew!  These were hard questions that stressed me out even more than a three-hour, all-you-can-write, grade-determining Role of Force exam.  (In December 2011 I didn't think anything could stress me out more than that.)  Luckily, all my classmates and friends were struggling with the same decisions and were there to talk them out with me.  From conversations in the Hall of Flags, to advice from our senior military fellows, to Togo-New York-Cambodia gchats during summer internships, I aired my anxieties and listened to how my friends were thinking about their post-Fletcher lives.
For now, I've decided to return to DC, where I'm working for the Africa Center for Strategic Studies (ACSS), one of five regional centers of the Department of Defense.  I support academic outreach programs with members of the African security sector on civil-military relations, respect of democratic values, and other U.S. security priorities on the continent.  Recently, for example, we held a three-week program in DC for 60 rising African security sector leaders.  I conducted research and prepared background materials for the participants on ethical leadership, served as the point of contact for over 30 guest speakers, and got to interact with some amazing participants.  Recently, while discussing guest speakers with colleagues for an upcoming program, I kept saying, "Oh, I know her, she went to Fletcher and is awesome," or "She went to Fletcher.  I don't know her personally, but I've heard Professor Shultz rave endlessly about her, so she must be great."  After hearing quite a bit of this, my coworker turned to me and asked if we could populate the guest speaker list exclusively with the Fletcher network.  Yep — I'm pretty sure we could.
Through my job, I've been able to gain a deeper understanding of the security challenges in Africa, as well as the U.S. policy structure, and I've started to build a network within the Africa security community here in DC.  But I've also learned a lot about what it means to work for the U.S. government, which has been at times a bit frustrating.  Although I certainly enjoyed my time with Netflix during my brief paid vacation in early October, the government shutdown presented a serious planning challenge and threatened to cancel our program altogether.
Living in DC is not all about work, of course.  Fortunately, many of my friends from before Fletcher are still here, but there is also a large Fletcher crowd from my class, who I see often.  The best part is that everyone is always up for a new adventure, even if it doesn't involve leaving DC.  We've splurged on an après-ski event at a fancy hotel bar, just because it seemed fun, tried some of the hundreds of new restaurants in the city, hosted birthday/holiday/just-because parties, and will be delivering holiday meals to seniors together.  I run into Fletcher people on the Metro, at work programs, at networking events, and at social gatherings where I didn't know anyone from Fletcher would be.  It's true — Fletcher is everywhere in DC.
So, I know I made the right post-Fletcher decision for me.  But do I get a tinge of envy when I hear about my friends who are currently traveling the world?  Of course I do — I wouldn't be a Fletcher grad if I didn't.