Faculty Spotlight: Joel P. Trachtman
Today's post in our Faculty Spotlight series comes from Joel P. Trachtman, Professor of International Law, who describes his special perspective on his field.  Prof. Trachtman currently teaches International Law in International Relations, International Business Transactions, International Investment Law, International Financial and Fiscal Law, and Legal and Institutional Aspects of International Trade.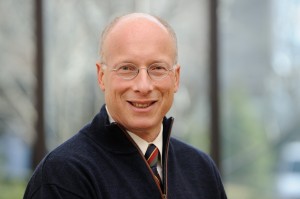 I first became interested in international law in 1975, when, as a student at the London School of Economics, I had the opportunity to study with Rosalyn Higgins, who later served as a judge on the World Court.  After my undergraduate studies, I studied international law and then practiced for nine years in New York and in Hong Kong before joining the Fletcher faculty.
It is great to be a law professor at Fletcher, where law is one of several areas of international public policy study.  While the disciplines of history and political science specialize in the study of how and why governments take particular actions, and economics specializes in the study of the consequences of government and private sector actions, law specializes in the implementation and interaction of government policies, and in how businesses interact with governments.
My research has two streams:  (i) economic analysis of international law and (ii) international trade law.
First, I have been one of the early adopters of economic methods in the study of international law.  The field of law and economics has revolutionized legal study during the past 30 years, but it took a bit longer to get to international law.  My 2008 book, The Economic Structure of International Law (Harvard University Press), explored and consolidated some of the ways in which economic analysis helps us to understand the causes and effects of international legal rules, using tools from price theory, public choice, transaction cost economics, and game theory.  I've been at Fletcher since 1989, and have now been thoroughly Fletcher-ized, so as to see international public policy and business problems as multidimensional issues, requiring interdisciplinary analysis.  My 2013 book, The Future of International Law: Global Government (Cambridge University Press), extended this way of thinking to look at changes in globalization, democratization, demography, and technology in order to suggest the ways that these changes would result in increasing demands for international legal solutions to international cooperation problems.  That book won the International Studies Association's prize for best book on international law for 2013.
By placing international law in a social scientific context, I am able to explain it better, and critique it better, in the classroom.  Traditional legal analysis and scholarship looks only for consistency and internal logic.  A social science-based legal scholarship examines more broadly the links between social ends and legal means, and demands intellectual rigor in critiquing legal rules.  For example, my courses in international trade law and international investment law begin with a careful analysis of the economics and political economy, and an analysis of the economic and political roles of law, in these fields.
My second stream of research is international trade law.  This is an area of international law in which economics and politics are extremely important.  One focus of my work within international trade law has been on the relationship between trade liberalization and national regulatory autonomy.  This is the central issue of globalization:  how can we attain greater integration for efficiency, while maintaining the maximum ability to achieve local public policy goals?  I recently wrote a short paper on this topic for inclusion in a book of recommendations for trade ministries on how to proceed in WTO negotiations after the December 2013 Bali Ministerial Conference and the rather modest agreement it produced.  My paper was entitled "Unleashing Recognition in International Trade," and was included in an e-book entitled Building on Bali: A Work Programme for the WTO, edited by Simon Evenett and Alejandro Jara, former deputy director-general of the World Trade Organization.
I enjoy making the tools of legal analysis and argument available to Fletcher students, and showing how these tools complement and incorporate social scientific and historical argumentation.  Based on my experience revealing and explaining these analytical tools and arguments to students at Fletcher for the past 25 years, I recently published a book that succinctly explains how lawyers analyze and argue.  It is entitled The Tools of Argument: How the Best Lawyers Think, Argue, and Win.