Cool stuff students do: Fermentation 101!
What better way to kick off a new week than to learn about students and their fermentation activities.  Second-year MALD student, Bob Lynch (who also works for the University's Office of Sustainability) tells us about the Fermentation 101 club's activities.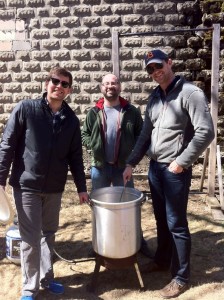 Quick trivia question: What do kimchi, beer, and salami all have in common?
The answer?  They're all the product of fermentation, a process of food preparation and preservation that has been utilized by human populations for over 5,000 years all across the globe.
Fermentation is the process by which microorganisms — usually yeast or bacteria — biochemically break down starches and sugars to produce alcohols or acids.  Even though it has only recently been understood with modern science and technology, since its discovery it has been an integral method to prepare and store food for nearly every human culture.  Fermentation is what makes bread rise, gives wine its ability to be stored for hundreds of years, and provides many of the positive health benefits of pickled foods.  In a sense, one cannot celebrate and understand food and drink without celebrating and understanding fermentation.
At Fletcher, the Fermentation 101 club celebrates this once mysterious process by hosting events ranging from food tastings to brewery tours, giving Fletcher students an opportunity to learn more about one of the most culturally significant pieces of human culinary history.  With well over 100 members, it is one of Fletcher's most popular and celebrated student organizations.
Just this semester, the Fermentation 101 club teamed up with the Fletcher Food Policy Club to offer a tour of Boston's Harpoon Brewery, participated in the Friedman School's Slow Food Brew Off (where one Fletcher student's home-brewed beer won third place among 16 competing beers), and has hosted bread and cheese tastings.  One of the club's more popular undertakings is beer brewing, for which the club hosts students who are excited to learn about the fermentation process while taking a break from their studies.  During these brewing events, Fermentation club members meticulously go through beer brewing step-by-step, using the same tools, ingredients, and techniques that have been used since the Renaissance to prepare one of the world's most popular beverages.
And, yes, when everything is said, done, and fermented, club members get to kick back and enjoy the fruits of their labor.