Faculty Spotlight: Leila Fawaz
Today's post comes from Leila Fawaz, Issam M. Fares Professor of Lebanese and Eastern Mediterranean Studies.  Prof. Fawaz holds a dual appointment between Fletcher and the Department of History at Tufts.  She currently teaches The Arabs and their Neighbors and War and Society in the Middle East in Historical Perspective.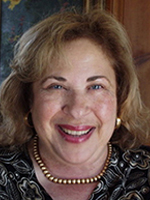 When I started my teaching career in the early 1980s, I used to tell my students that Turkey was not a Thanksgiving dinner, but a country of great importance.  Today, I do not need to worry about our students knowing where Turkey or other countries of that region are.  The Middle East is at the center of world affairs and every high school student, and certainly any advanced student, knows of its crucial importance to the United States and to the rest of the world.  It is unfortunate that perennial conflicts have triggered much of our current awareness of the interdependence of all parts of the globe, yet I find it deeply rewarding to teach at The Fletcher School, where students and faculty are committed to global awareness, and where we can pursue further knowledge at the highest level of scholarship.
I love Fletcher because of its openness to different viewpoints and its commitment to internationalism.  Faculty and staff are aware that our students, who come from all over the world, are our most prized charge.  Students learn from one another, expose one another to different cultures and ways of thinking, and learn to respect viewpoints that they do not necessarily agree with.  All of us at Fletcher are exposed to diverse cultures on a daily basis and are better teachers, and people, for it.  We, the faculty, come from different disciplines, which adds a rare and important intellectual dimension to our ability to communicate with colleagues who, at other schools and institutions, are dispersed throughout departments and do not have the privilege of working together closely, on a continuous basis, as we do.
Not that I ever thought I would devote my career to education.  I came to the United States in the 1970s to complete my graduate education, as so many people from other countries do, fully expecting to return to my home country of Lebanon.  I never planned to have a career, and there was no pressure on me to get more education.  Very simply, I loved to read and continued to do so until I found myself with the highest degree I could possibly get, a Ph.D.  After that, I discovered that research continued to fascinate me and teaching energized me, so I forged forward, a bit haphazardly, in a wonderful career that brought me many rewards.  The primary reward is the privilege of getting to know students who are as international and as challenging as ours are.
In graduate school, I sometimes thought that what I had to say was not important enough to express loudly, only to hear the student next to me express similar ideas with confidence.  I learned that we cannot wait for perfection to get involved and that the best way to improve oneself and others is to do just that, by following one's passions.  Do not worry about taking "practical" courses that will improve your career.  Study what you love; you will excel, and then you can learn how to acquire any additional skills you need.  By studying at Fletcher, you'll learn to follow your passion intellectually in a rich and energizing community, united in its love of the School and its trust in your future.