Roxanne's reflections on two years at Fletcher
After two lovely years of working with Roxanne, an amazing writer, I'm sad that her student blogger role is coming to an end.  Though I'm hopeful to include her thoughts in the Admissions Blog in the future, the focus will shift to her post-Fletcher activities.  Today, Roxanne shares her reflections on two years at Fletcher.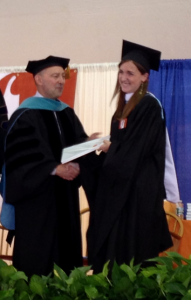 I remember reading the Admissions Blog from across the world and wanting to experience the buzz in Fletcher's Hall of Flags that Jessica so frequently described.  It, therefore, feels surreal to sit at my desk at home — the same desk where I have typed so many words and formatted so many footnotes — to write my closing reflections on this chapter of my Fletcher education.  On May 18, I marched in Fletcher's Commencement ceremonies and was once again moved by the love and care that run so deep in this community.  When I look back on two years at Fletcher, I will, indeed, remember compassion, kindness, and care — for the world and for each other. As I had promised Jessica, I would also like to take this opportunity to reflect on some of the other major themes and lessons that have punctuated my time at Fletcher.
Prepare to be humbled by your peers.  Professors, university leaders, staff, and guest speakers are all incredibly inspiring and will give you much to reflect on, but prepare for an immense amount of your learning to come from your peers.  Some of my fondest memories of learning and community alike at Fletcher have taken place in the company of what a friend has affectionately dubbed "the Ladies who Law."  Choose your study groups well — those are the individuals who will help you make sense of econometrics or piece together the complex concepts of international law, and who will be entrusted with much of your collective learning.  Know that there will be times when you understand concepts less than your peers, and times when you will have to shoulder more of the work or be better prepared.  Treat your group work seriously and your peers with respect, and you will find yourself referencing their thoughts and insights just as much as you do those of your professors.
Advocate for what you care about.  I have always been drawn to the intersection of identities: conflict and humanitarian practitioner, scholar and activist.  Inhabiting the intersections can be challenging, and clarifying my role in conflict-affected settings requires demarcating how these different identities interact.  However, as a student, I was not prepared to cast any of the identities aside.  I came to Fletcher to study and learn, but when I noticed that there was an opportunity to think more creatively as an institution about inclusive security, diversity, and analysis of gender and power, I leaped at the chance to facilitate these conversations.  Looking back, I cherish the formation, advocacy, and momentum of the Gender Initiative at Fletcher and cannot imagine my time here without channeling my energy towards it.  Advocating for what I (and many others!) cared about was not required for my courses.  It was not an extra-curricular activity, per se.  At the same time, it felt essential to me and it aligned my personal values, professional experience, and sense of what I wanted to give to this community.  When you see opportunities to reflect on Fletcher as an institution, and to do so collaboratively and constructively, don't shy away from them.
Say yes. In an earlier post with advice to incoming students, I had suggested that you think about what you hope to accomplish at Fletcher prior to arriving.  In this post, I suggest carving out some room for surprise.  Try a class that is outside your field of expertise — just because it's interesting, or because you want to learn from that particular professor, or just because you're curious.  Attend a talk that you don't think is for you.  Sign up to learn to dance salsa for the Culture Nights — even if you've never danced before.  Some of the best learning takes place when you say yes and open yourself up to vulnerability, surprise, and the opportunity to be a novice again.
I am not quite ready to leave Fletcher — but perhaps that is a testament to the community itself: Fletcher inspires in all of us a constant desire to learn, challenge ourselves, and strive — and, at the same time, it sparks such an investment in our shared bonds that we are reluctant to leave the place and its people behind.  Graduation has, however, catapulted us into the world and I am looking forward to watching these relationships evolve and reconfigure and to being part of our continued, shared learning.  I promise to come visit on the Admissions Blog as an alumna from time to time — until then, thank you for reading, and have a wonderful summer!