Introducing Ali, first-year MIB student
Today I'd like to introduce the first of our first-year Student Stories bloggers.  Ali is in the MIB program, but her path to Fletcher was not the typical one:  she is one of the very first students who have enrolled after applying via the Map Your Future pathway to admission.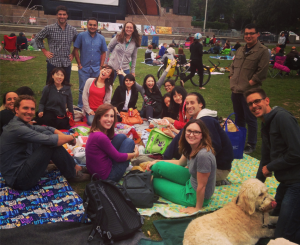 Three years ago, I heard about The Fletcher School of Law & Diplomacy for the first time.  I was an undergraduate political science major, interning with the U.S. Department of State — an institution loaded with Fletcher alumni — and applying to graduate school seemed like a good next step.  I was disheartened when the Admissions Committee told me that I was a good candidate, but that I needed more professional experience.  I excitedly, but begrudgingly, accepted a place in the school's first group of students admitted through Map Your Future — a program designed for Fletcher-destined undergraduates who just need a bit more "something," i.e. professional experience, international travel, language proficiency, etc. — and scheduled myself to begin in August 2014.
Halfway through my first semester at Fletcher now, I can't imagine not having those two years of work experience at Fulbright Belgium, and life, under my belt.  My classes this semester are Managerial Economics, Corporate Finance, Accounting, Corporate Social Responsibility, and Corporate Management of Environmental Issues — topics I would have never chosen before I managed a program budget and realized the difference that the private sector can make in public and non-profit initiatives.  My friends include classmates who are two to six years older than me and are well-traveled veterans of big name organizations such as Target, Boren Fellowships, and Procter & Gamble.  I try to think about what I could have added to conversations with these people two years ago, and it makes me happy the Admissions Committee forced me to wait.
During the next two years, I'll be taking a mix of business, policy, and social-impact driven courses to learn the hard skills that will hopefully land me a job in a consulting firm or private company, where I can promote sustainability and social impact from the inside out, and bring people from business, government, and non-profits to the same table.  This happens every day during lunchtime at Fletcher, so hopefully the goal isn't too big of a stretch.
I got to practice these convening and networking skills at a recent exciting event — a Net Impact conference in Minneapolis, MN, where I met executives from top companies like Southwest Airlines, Brown-Forman, and Starbucks, who already consider their companies' social impact.  I've read cases about their companies' business decisions in many of my classes already, and it was exciting to discuss the situations with them in person.
Career transitions between sectors are a common story at Fletcher, and I hope that Map Your Future students like me will soon be, too.  I hope you enjoy reading my journey with these experiences over the next two years.  Maybe I'll meet some of you during your admissions interviews soon!