First-Year Alumni: Keith describes his work for the World Bank Group
I'm happy to introduce the first member of the Class of 2014 to report on his life after Fletcher.  Keith Magnam jumped back into the workforce quickly after graduation, and has settled into his new life in Burkina Faso.  Here's his story on his first year post-Fletcher.
I remember the day that I received my welcome packet from Fletcher Admissions some two and a half years ago.  It was a scorching hot, dusty day in the lazy town of Bobo-Dioulasso.  Getting myself to the DHL office, which was tucked away on the edge of the city limits, was the first of many experiences that would show me just how unique a Fletcher education would be.  It's fitting that I received my packet while living as a Peace Corps volunteer in Burkina Faso.  It was in the Peace Corps that I witnessed some of the deepest and most stagnant poverty that I had ever seen in my life.  It was in the Peace Corps where I realized that international development would be the focus of the rest of my career.  Being at the grassroots level, seeing the day-to-day lives of these amazing people and the struggles they encountered, I knew that I needed to go back to school in order to serve them in the ways they needed.  Fletcher's values, amazing professors, and tireless network of passionate and supportive alumni called to me across the globe.  And so, in September of 2012, I had the immense pleasure of joining the Fletcher Class of 2014!
I spent my two years learning everything I could about development economics, the history and progress of international development, and the skills and techniques that would allow me to better design, monitor, and evaluate development interventions around the world.  My last semester at Fletcher really made it clear to me where I wanted to be and what role I wanted to play in the field of international development.  I took Econometric Impact Evaluation and Development Economics Micro Perspectives with Prof. Jenny Aker, and these two classes taught me how to approach developmental problems from a more efficient and multifaceted perspective.  Professor Aker is so passionate about her work and has an unmatched ability to make these lofty theoretical ideas easily accessible and increasingly enjoyable to learn.  I spent hours doing STATA work and reading econometric papers because I honestly wanted to.  How often does that happen?  Well, at Fletcher, all the time.  The environment at Fletcher makes students want to excel and strive to be a leader in their field of expertise.  It is a great combination of rigorous academics and a collaborative, convivial student body that creates the perfect little bubble in Medford/Somerville, MA where our world's next leaders are created.
The summer between my first and second years was spent working with FINCA International in Kinshasa, helping them implement a nationwide household survey.  My time as their summer fellow taught me a great deal about managing the implementation of a household survey, training and supervising teams of enumerators, and managing data collection in infrastructure-poor areas.  This experience was made possible thanks to the generous financial and warmhearted support of the Blakeley Foundation, which sponsors Fletcher summer internships.  Without that support, I could have never made the trip to the DRC, nor would I have been exposed to what it's like to work in a fragile country setting.  The experience had its fair share of challenges and security incidents, but Fletcher and the Blakeley Foundation provided me with overwhelming support and advice that helped make the trip a success overall.
Immediately after my time in Kinshasa, I took advantage of the flexibility within Fletcher's curriculum to spend a semester abroad in Paris.  This experience was priceless in that it helped me broaden my perspectives on international collaboration and different developmental paradigms, and of course, to continue to perfect my French while eating the best bread and cheese you'll ever taste.  It was a great opportunity to interact with some of the most influential actors in the development world and begin the work I needed to construct my thesis.  I believe it is the combination of my coursework and my practical field experience that helped me get to where I am today.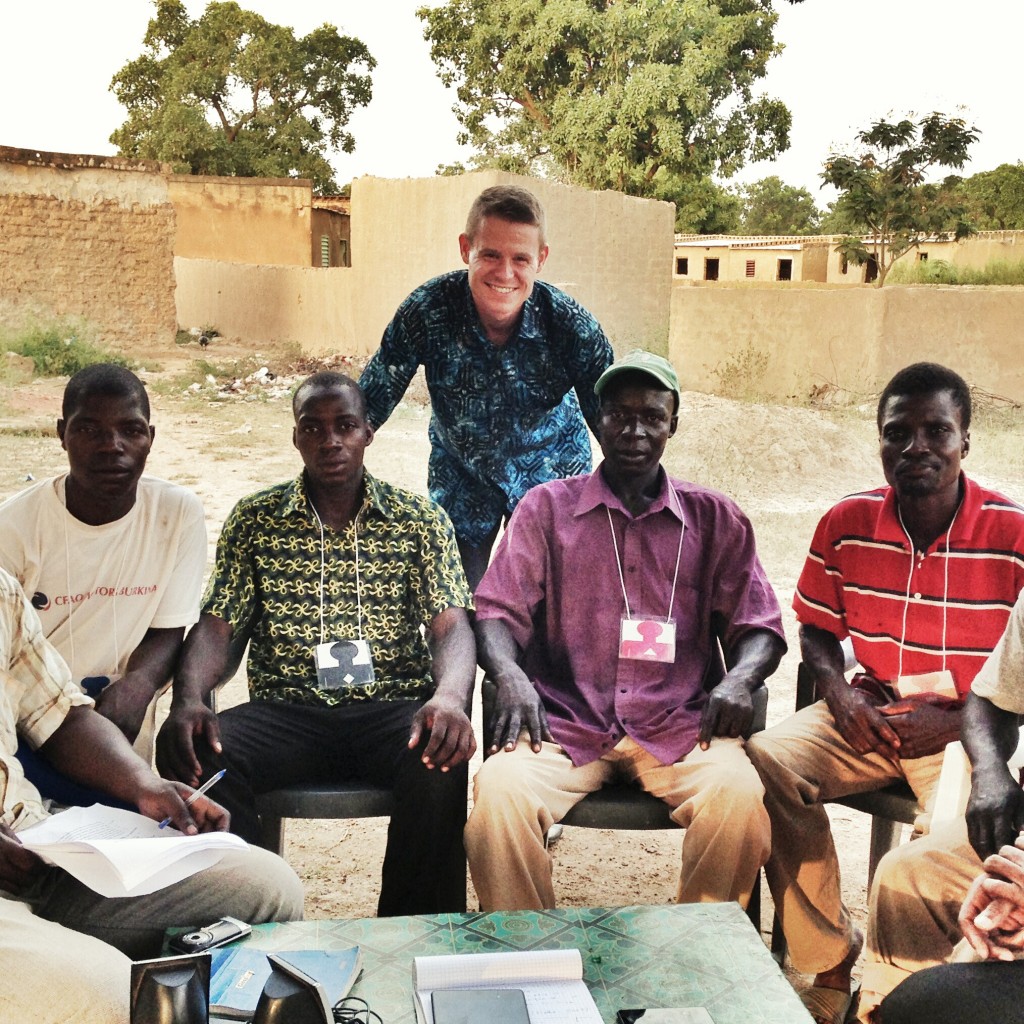 I currently work for the World Bank Group as an Impact Evaluation Field Coordinator, working on their governance-related impact evaluations in Burkina Faso.  I sit within a research group called the Development Impact Evaluation Initiative, whose goal is to increase the use of evidence-based policy-making through rigorous experimentation and evaluation.  On a daily basis, I am holding meetings with local NGO coordinators, managing our data collection team, and liaising with national ministries.  It is a never-ending whirlwind of project management and critical thinking that has allowed me to grow professionally much more quickly than I had anticipated.  As my position sits at the crossroads between the research team, operations, human resources, and finances, I am forced to manage a diverse set of work streams simultaneously.  I'm able to do so efficiently thanks to the breadth of skills I was able to acquire while at Fletcher.
In this role, I have had to adapt to a complicated political situation as tensions rose over the past several months related to the ex-President's attempts to extend his rule past the constitutional limits.  After 27 years, the people of Burkina Faso had had enough and took a stand, demanding that Blaise Compaoré step down and allow a new era to be ushered in.  Living through this chaotic situation, as it went from lazy streets to blackened skies and burning buildings, I have been reminded about the importance of the work that we, as Fletcher graduates, are doing every day.  I have experienced first-hand a people's frustration with the stagnation of their economy and the disparity that exists between the world's richest and poorest populations, and their desire for change.  If I took away one lesson from Fletcher, above anything else, it is that we are all in this together.  Those of us who are lucky enough to be able to attend such a prestigious institution need to do our part to help the world move towards a better future.  Whether that be through domestic policies targeting the racial inequalities of our own country, through the concerted efforts of the international community to put an end to extremism and violence, or by helping women create income so that they can feed their children, Fletcher was there to teach me and my fellow classmates.  Fletcher will be there to continue teaching generations of bright, passionate leaders who will help drive our world to a better future.