On Sunday I made a last-minute decision to jump-start my application reading on Monday.  We've often written about our "reading days" at home.  Past posts have always involved piles of green files (and, occasionally, cute dogs).  These days, no paper files!  Here's how my day went.
7:30:  Move a laptop to a kitchen counter, grab a cup of mint tea in favorite frog mug, and kick off the day, starting with a quick review of email but soon moving on to the applications that were waiting for me in my queue.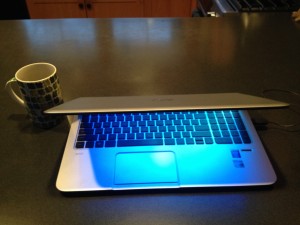 9:30:  The pain in my shoulder from being perched over a keyboard tells me it's time for a break.  Switch to coffee (half caf/half decaf — I want to be alert but you wouldn't want me too jumpy) in a theme-appropriate mug.  Do shoulder rolls while switching to another location — a desktop with a more comfortable chair.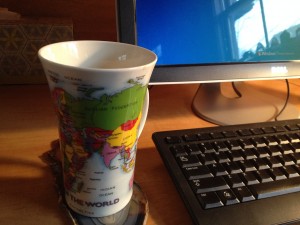 12:00:  I've now cleared out my queue, which means I can start plucking applications at random.  But first, lunch — a peanut butter and jelly sandwich.  So far as I'm concerned, peanut butter is always #1, and being at home means I can toast the bread for the sandwich.
1:00:  After lunch, I read another couple of files, but at 1:00 it's time to park myself somewhere warm and comfortable for a conference call.  After the call, I switch back to the laptop, but on a different counter — changing chairs throughout the day is part of my reading strategy.  More tea in yet another world-map mug.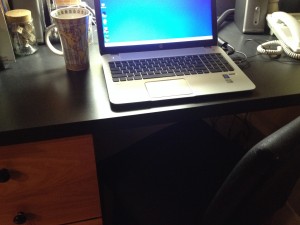 3:30:  Emails distract me for a while.  Once I regain focus, I return to my application queue and try to finish whatever I've loaded in there.
4:45:  That's it for the day.  Time to put together a quick dinner and then head out to a meeting of a community board I'm on.  A little human interaction (and a chance to be outside) won't be a bad thing.
There are so many great things about our new online application reader system, but I'm still working on strategies for pain-free reading.  More changes of chair?  More cups of tea?  By the end of this year's application cycle, I'll have it all worked out.  Meanwhile, I've already read some inspiring essays and I know there's more to come!