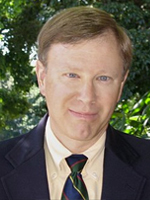 Fletcher students, alumni, faculty, and staff learned on Monday that Prof. Bill Martel had passed away.  The community has received the news with tremendous collective sadness, reaching out to each other for help in understanding something that seems impossible to understand.
Bill made his mark at Fletcher, especially on the student community, in so many different ways.  He taught and advised a great number of students.  His focus on cyber security drew additional students to consult him on their research.  He joined the annual ski trip for a day of skiing, and he is known to have enjoyed the chili served at the Mugar Café — a typical indicator that he didn't simply buy his lunch and run.
The Fletcher faculty is loaded with nice people, but in any group of nice people, someone can still be the nicest.  Bill was the nicest.  As he walked through the building, he greeted everyone by name.  If he didn't recognize someone, he introduced himself.  With his incredible ice-blue eyes, he transmitted kindness and warmth.  He was one of those very rare individuals in the world about whom everyone had something good to say.
Bill was a true friend to the Admissions Office, and we loved working with him.  He served three years as chair of the Committee on Admissions, and created an atmosphere of warmth and respect.  He valued hearing what students and staff members had to say — no claims of faculty privilege for him.  He checked with us to be sure he was doing all he could, and we needed to struggle not to take advantage of his generosity.
Even in this past year, when he was dealing with a serious illness, Bill made a special effort to stay on top of Admissions news.  We would gleefully have welcomed him back to the Admissions Committee, but the dean decided to give him a light committee assignment load (like us, I'm sure, struggling not to take advantage of Bill's willingness to jump in where he was needed).  When Bill and I exchanged emails in September, we both said we'd look forward to working together again on the Admissions Committee in 2015-16.  I truly meant it.
Unlike those who follow a typical path for a professor, taking a permanent position shortly after completing a PhD, Bill came to Fletcher with a rich teaching background, including a long stint at the Naval War College.  As a result of joining Fletcher relatively late in his career, Bill was granted tenure only last May.  Also in the spring, he was selected to receive the James L. Paddock Teaching Award.  Because of his illness, he couldn't accept the award in person, but he had his friend and colleague, Prof. Shultz, read his speech of thanks, in which he referred to students as the "center of gravity" at Fletcher, and emphasized the importance of a positive "can-do" attitude.  I'm sure I'm not the only one who is grateful that Bill received these honors at a time when he might most appreciate them.
Bill will be formally remembered here at Fletcher in the spring.  But even outside of formal opportunities for remembrance, Bill will be on the minds, and in the hearts, of all of us who knew him.  Truly the nicest of men.  An inspiration.  And a real friend to the Admissions Office.  We'll miss him greatly.