Katerina wins prestigious OPC Foundation Award
Though my post is belated, I want to ensure recognition of Katerina Voutsina, who this winter was awarded an Overseas Press Club Foundation Scholar Award.  First, let's let Katerina describe her path to Fletcher's MALD program, which she concluded at the end of last semester.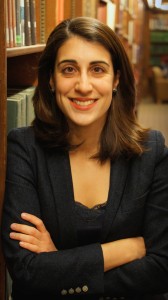 I came to Fletcher in January 2013 with the desire to delve deeper into European Union Affairs and economics.  Since 2010 and until my first day in the Hall of Flags, I was reporting on the social impact of the European financial crisis in Greece for the political newspaper TA NEA in Athens.  As a multimedia reporter and digital native, I learned to tell true stories with video, audio and interactives.  In 2011, I joined a three-person investigative team at the newspaper.  Our stories reached millions of readers on the newspaper's print and online editions, and showed me the impact of quality journalism in my own country.  However, the complexity of the crisis — both economically and politically — reaffirmed my desire to return to graduate school.
My Fletcher journey was an intellectually stimulating experience: a mixture of challenges and joys.  Over the past two years, I have tailored my MALD degree to acquiring the analytical skills needed to understand policymaking in the EU, as well as the history and inherent politics of its institutions and neighbors.  My coursework in Macroeconomics, EU Political Economy, EU-US Relations, Islam and Politics, Religion and Conflict, Forced Migration, International Human Rights Law, and Analytic Frameworks in Public Policy have equipped me to identify impactful — but complex — stories, analyze the main players and explain the consequences to the reader.  I am grateful for my professors, whose passion for their field of work and mentorship encouraged me to work harder and delve deeper into the subjects of study; and I am thankful for the inspiring Fletcher friends I made here.  I am excited to be joining the Brussels bureau of The Wall Street Journal in May.  I believe that journalism is a form of public service and I look forward to writing on topics that would serve that purpose in the future.
And now the press release describing the award:
NEW YORK CITY, February 20, 2015:  Katerina Voutsina, a graduate student at the Fletcher School at Tufts University, was awarded an Overseas Press Club (OPC) Foundation Scholar Award at the Foundation's 2015 Annual Scholar Awards Luncheon held at the Yale Club in New York City.  Acclaimed foreign correspondent, author and filmmaker Sebastian Junger was the keynote speaker.  Voutsina was among 15 aspiring foreign correspondents selected by a panel of leading journalists from a pool of 175 applicants from 50 different colleges and universities.  She is the first Tufts student in 25 years to win an OPC Foundation award.
Voutsina won the Standard & Poor's Award for Economic and Business Reporting as well as an OPC Foundation fellowship in the Wall Street Journal bureau in Brussels.  In her winning essay she questioned whether Jean-Claude Junker is the right choice to lead the European Commission.  Voutsina received the award from Natalie Evertson, S&P Capital IQ.
The award winners were also honored with a reception at Reuters the night before the luncheon, hosted by Reuters' editor-in-chief Stephen Adler.  On Saturday they received risk management and situational awareness training from Global Journalist Security at The Associated Press headquarters in New York City.  They also met privately with editors from BuzzFeed and The New York Times in a special breakfast held the morning of the awards presentation.
The OPC Foundation is the nation's largest and most visible scholarship program encouraging aspiring journalists to pursue careers as foreign correspondents.  Media organizations at the luncheon included AP, Bloomberg, CBS News, GlobalPost/GroundTruth Project, IBT Media, Reuters, and The Wall Street Journal.